From control room to the field
Sepura has launched a new feature-enhanced version of its revolutionary Image application, which allows the transfer of pictures from a control room to the mobile devices of field personnel.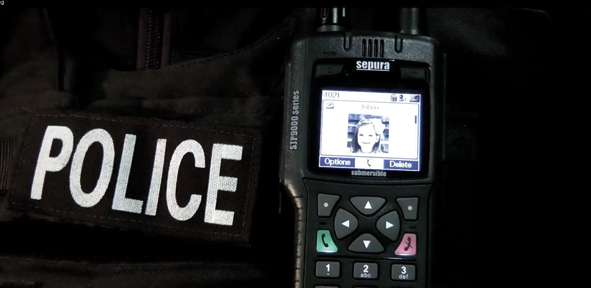 Sepura has launched a new feature-enhanced version of its revolutionary Image application, which allows the transfer of pictures from a control room to the mobile devices of field personnel.
The application, launched at last month's Critical Communications Middle East conference in Dubai, can send images to a wide variety of devices, including – notably and uniquely – Tetra radios, widely used by mission-critical organisations globally.
Jonathan Hamill, Sepura's vice-president applications, explained: "Image provides a major boost to public safety and other organisations that have the need to push key visual and associated textual information to field personnel, providing them with a clear and concise set of information on which to act. Mission-critical organisations that rely on narrow-band bearers such as Tetra for voice and data communications benefit as the server optimises band-width usage and compresses the data in an appropriate manner for the network and devices of users in the field.
"Image's many uses include: delivering a photograph of a missing person to police officers; sending still pictures from CCTV or video surveillance footage to security forces to apprehend suspects; dispatching a picture of suspected drugs smugglers to customs authorities; or disseminating a building floor plan or hazardous material information to fire and rescue personnel."
The application is scalable for use in any sized network, and can be accessed simultaneously by multiple client applications and multiple users in different geographic locations, therefore supporting either multi-agency or multi-organisation use. It can be used from a client application provided by Sepura, or integrated into existing command and control systems via an API (application programming interface).
Sepura's head of technology and innovation, Peter Hudson, said: "Image's new modern interface is intuitive to use and includes drag and drop functionality, reducing training time and, crucially, increasing the speed at which an operator can react in an emergency situation. The application also supports a wide range of languages via a custom import process, which can be easily managed by the user.
Mr Hamill added: "Image is an application with many unique features designed to increase the efficiency of organisations where fast, clear and accurate information transfer is vital for mission and business-critical communications."
He said applications such as Image are an organisation's 'super power': "By streamlining essential processes – maybe processes that you repeat hundreds of times a day – they can help to increase productivity, give fast access to critical information when you most need it and reduce the need for voice calls, which in turn conserves valuable bandwidth."
Applications, or 'apps' as they are commonly known, are often extremely low-cost, making a network work harder for users and bringing a higher return on investment.
"And if you invest in apps that are bearer agnostic, whatever the future holds they'll remain valid and move across technologies with you," said Mr Hamill.
"The diagram below shows you can create a flexible, modular architecture – existing within your IT domain or virtualised in the cloud – that provides an instant connection between your back-end systems and a range of devices, from tablets to Tetra radios.
"In practice, this could have almost limitless uses. Years ago, when I was a police officer, photographs of missing and wanted persons were photocopied and handed out. Very often, the 'golden hour' – the period immediately following a person's disappearance when they are most likely to be found – was spent disseminating information. That information can now be made available at the press of a button.
"An app like Image can be integrated with CCTV systems and body-worn video recording solutions, taking images and disseminating them to Tetra radios and Java-enabled devices within seconds. Additional details and location information can be transmitted along with the image, instantly providing