'Frightening jump' in online child sex abuse material hosted in Europe
The Internet Watch Foundation (IWF) has warned that "zero tolerance" is needed across Europe as new figures show it is now a world hub for hosting child sexual abuse material.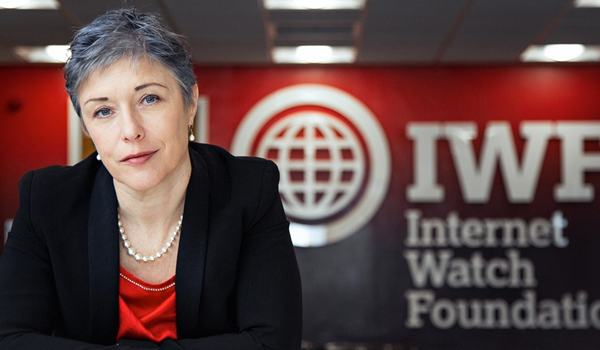 Nine in ten web pages identified by the IWF as showing videos and images of children suffering sexual abuse, rape and torture are hosted on servers in Europe.
And IWF chief executive Susie Hargreaves says the situation could get worse given the increased concerns over the activities of sexual predators on the internet during the Covid-19 pandemic.
She said this "frightening jump" must not be "left on the back burner" as the world struggles to deal with the coronavirus crisis.
Ms Hargreaves is calling on the European Commission to review the effectiveness of the Child Sexual Abuse Directive – a legal framework for the investigation and prosecution of crimes and protection of victims – which is approaching its tenth anniversary. She wants governments, technology companies and law enforcement to come together to discuss the effectiveness of the directive and what more can be done to tackle this issue to create a zero tolerance of child sexual abuse material across Europe.
The IWF's latest figures, released in its annual report, show a rise in the volume of child sexual abuse material hosted in Europe, with a vast amount of the world's worst material being hosted on servers in the Netherlands.
The IWF says the Netherlands has become a target for hosting child sexual abuse material due to its strong internet infrastructure, which makes it an easy place for internet companies offering low-cost hosting services to operate.
Seventy-one per cent of the child sexual abuse content found by the IWF is hosted in the Netherlands, equating to 93,962 URLs. This is a sharp rise from 2018, when the Netherlands was found to be hosting 47 per cent of all known child sexual abuse material.
In 2019, almost nine in ten (89 per cent) known URLs containing child sexual abuse material were hosted in Europe. This compares with eight in ten (79 per cent) in 2018. This is followed by North America, which hosted nine per cent of all known child sexual abuse URLs in 2019, down from 18 per cent in 2018.
"We have seen a real and frightening jump in the amount of child sexual abuse material that is being hosted right on our doorstep here in Europe," said Ms Hargreaves. "We also have a real opportunity for change to create a zero tolerance of this material when work on the Child Sexual Abuse Directive begins later this year.
"No country is immune to this terrible criminality. While the UK doesn't have the hosting issue, our problem is that many consumers of child sexual abuse live here. We've got to fight this on both fronts – both the supply and the demand."
The UK is now regarded as the third biggest consumer of online child sexual abuse, and the National Crime Agency has identified "more than 300,000 individuals in the UK posing a sexual threat to children, either through physical 'contact' abuse or online".
Ms Hargreaves added: "Together with our law enforcement and online safety colleagues, we're very concerned about the impact of Covid-19 and we fully expect to see more child sexual abuse material being shared and available for some time to come; this issue must not be left on the back burner.
"There is a lot going on in the world right now with the coronavirus crisis plunging everyone into uncharted territory, but the world should not be allowing safe havens to exist anywhere for these depraved criminals."
The IWF is the UK-based charity responsible for finding and removing from the internet images and videos of children suffering sexual abuse, and takes reports from more than 30 countries. It develops tools and provides a suite of services for technology companies to help prevent the abuse of their platforms for child sexual abuse content, and is looking at ways to share them with as many partners as possible.
As an INHOPE hotline (International Association of Internet Hotlines), the IWF works closely with the other hotlines around the world to ensure partners are alerted when analysts find child sexual abuse content hosted in their country.
Arda Gerkens, chief executive officer of EKOM, which comprises the Dutch hotline for dealing with child sexual abuse as well as the helpline for victims of online sexual abuse, said: "The Netherlands is unfortunately the biggest web hosting country when it comes to this material. A strong and swift infrastructure combined with low costs, appeals to services that host images. Those services are often abused by people sharing this material.
"Acting on a notice to take down should be a last resort. It's best if this material doesn't come online at all.
"I would like to advocate that all companies and law enforcement that have a verified hash list share them among each other, although it might mean that legislation would need to be revised to do so. We are happy that the IWF has proposed to explore the possibilities of sharing our hash lists within the current legal environment."
The National Police Chiefs' Council lead on child protection has warned that more and more young British men are now viewing images and videos of children suffering sexual abuse on the internet.
Chief Constable Simon Bailey says this is fuelling the demand for online child sex abuse in the UK and fears it will only get worse.
Speaking on the IWF's new podcast series, 'Pixels from a Crime Scene', he said: "We now look at the UK as being the third biggest consumer of online child sexual abuse.
"We look at the referrals that organisations like the Lucy Faithfull Foundation are getting; I think those figures are conservative and, worryingly, we are now seeing the emergence of a new group of offenders.
"We have historically talked about those men who are predisposed to have a sexual interest in children.
"That group obviously still exists, but what we are now seeing is a group of young men who are aged between 18 and 26."
Mr Bailey said these offenders "start to explore what child abuse imagery might look like, and they start to get their kicks from that".
"And the fact is that I fear will only get worse," he added.