Fresh misconduct allegation levelled at chief constable
Police Scotland Chief Constable Phil Gormley is facing a sixth complaint about his conduct.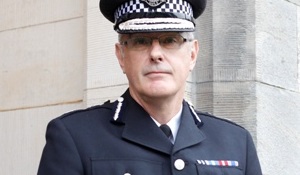 Police Scotland Chief Constable Phil Gormley is facing a sixth complaint about his conduct. The Police Investigations & Review Commissioner (PIRC) said it had been asked to assess a new allegation levelled against the officer. The PIRC is already investigating three allegations of bullying and misconduct against Mr Gormley, who has been on special leave since September. He has strongly denied misconduct, calling complaints "vexatious and opportunistic". It is understood five complaints had previously been made about Mr Gormley's conduct to the Scottish Police Authority (SPA) – three of which were deemed serious enough to be referred to the PIRC. Two separate complaints are being considered by the SPA and by the force internally. The latest referral is understood to have been made to the SPA by a civilian worker. The PIRC said it would assess the allegation "to determine whether the conduct, if proved, would amount to misconduct, gross misconduct or neither, and to establish whether an investigation is required". A spokesperson for Mr Gormley`s legal team, Burness Paull LLP, said: "We are aware that a single allegation of misconduct dating back almost one year has been referred by the SPA`s Complaints and Conduct Committee to the PIRC for assessment. "Chief Constable Gormley entirely denies the allegation as spurious and contrived. "The chief constable is disturbed by the timing of this allegation arising and it gives rise to serious questions in light of recent political debate about his employment status." The SPA is due to review whether Mr Gormley can return from leave on January 25. He was expected to return in November, but Scottish Justice Secretary Michael Matheson intervened and the SPA board, which initially agreed to a reinstatement, reversed its decision. The SPA said its referral to the PIRC followed an assessment which determined that, if proven, the allegations would amount to misconduct and require to be investigated. Former colleagues have defended Mr Gormley. Norfolk Police Chief Constable Simon Bailey, who was Mr Gormley's deputy, told Police Professional this week that he was an "excellent chief and leader who has made a real difference" during his policing career. But former Scottish Justice Secretary Kenny MacAskill has called for Mr Gormley to "depart with dignity" to resolve a supposed leadership crisis in Police Scotland. He said there were "serious questions" over Mr Gormley's conduct given the allegations of bullying against him.