Fraud and financial crime specialists honoured
Officers from four forces and a regional asset recovery unit have won awards at the thirteenth annual Keith Hughes Awards.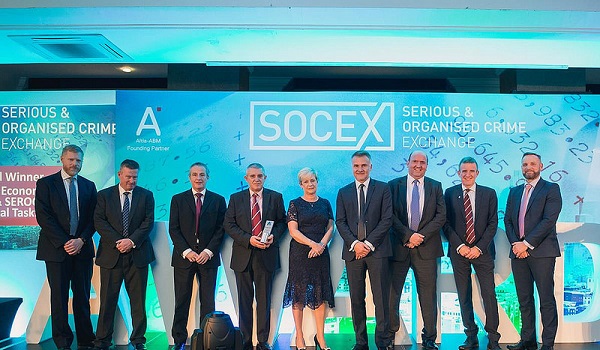 The Metropolitan Police Service (MPS), Surrey Police, West Midlands Police, Bedfordshire Police and the London Regional Asset Recovery Team were 2018 winners. 
The awards recognise the achievements of individuals and teams who have made outstanding contributions to investigating and prosecuting fraud. 
The awards were established in memory of Detective Constable Keith Hughes, an outstanding financial investigator with the former National Crime Squad, who died in July 2003. 
The Individual Award Winner was Detective Constable Derek Tinsley of the West Midlands Regional Asset Recovery Team. He led an operation that resulted in the conviction of an individual for VAT fraud.  
The original investigation was a murder investigation, but it was decided that the case could not be made to enable a successful prosecution. By adopting a completely comprehensive approach and pursuing every avenue of inquiry, Det Const Tinsley ensured that the individual was sentenced to 32 years in prison. 
The Individual Runner-Up award went to Detective Sergeant Iqbal Azad, of the MPS Cyber Crime Unit. He was recognised for his relentless work in leading an investigation that involved tracking cryptocurrency trading on the dark web, found to be linked to a large-scale fraud. It resulted in the successful conviction of a major perpetrator of this type of fraud. 
The Team Award was shared by the Surrey Police Economic Crime Unit and the South East Regional Organised Crime Unit Cyber and Digital Taskforce, for Operation Florida. 
They won for their approach to investigating and prosecuting a cryptocurrency case. After recovering a bitcoin electronic key at an individual's home address as part of a separate kidnapping investigation, they worked over several months to trace the bitcoins stored on the key, which were worth over £1 million.  
They were able to prove that the money had been obtained through crime, and also proved to the judge that crypto currency could and should be converted to pounds sterling and confiscated under the Proceeds of Crime Act.  
This was the first time that cryptocurrency had been confiscated and the first time that a judge in the UK had been asked to rule on the confiscation of assets stored in a digital currency. 
The Team Award Runner-Up was shared by the London Regional Asset Recovery Team and the MPS Anti-Money Laundering Taskforce. The team was nominated based on its work tracking the assets of an organised crime gang in London. The head of the family was sentenced to seven years in prison following an extensive investigation. 
Last, but not least, a special commendation from the National Police Chiefs Council (NPCC) was presented to Shane Roberts of Bedfordshire Police for his work raising the profile of financial investigation. 
The awards were given at the SOCEX fraud and financial crime conference in Manchester on November 22/23.