Fracking costs a 'bitter blow' as force reimbursed just a fraction of policing bill
The Government has been urged to reconsider after footing just a fifth of the bill for policing anti-fracking protests.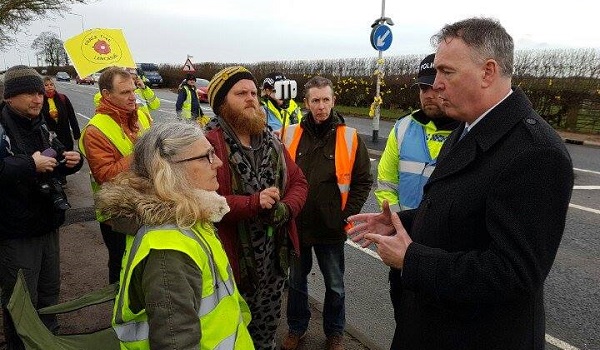 Demonstrators have flocked to Preston New Road in Lancashire every day since January 2017 to protest the Government's decision to allow shale gas extraction.
Lancashire police and crime commissioner (PCC) Clive Grunshaw believes the cost of maintaining order at these events will reach almost £7 million by the end of the year – but the Government has contributed the minimum amount possible.
The decision means Lancashire Constabulary could be forced to pay around £5.6 million out of its own budget. Mr Grunshaw described the costs as a "bitter blow" and has asked Policing and Fire Minister Nick Hurd to pay the bill in full.
"The decision to frack in our county overturned that made by Lancashire County Council. The expectation on Lancashire Constabulary to cover the costs of a decision borne in Whitehall is not a fair deal," he added.
"This is a resource demand which is not likely to leave Lancashire any time soon. Protests are still ongoing and are expected to escalate as we enter spring and summer and officers on the ground continue to do a very difficult job under intense pressure and scrutiny.
"This is not just an issue for Blackpool and the Fylde; officers from across Lancashire continue to undertake shifts at the site, and this is not how the public of Lancashire expect their police budget to be spent so I will continue to fight this."
Special grant funding is available to PCCs when the costs of a policing operation reach more than one per cent of their annual budget. Lancashire Constabulary should be eligible for repayment through the grant once expenses exceed £2.6 million.
Under normal circumstances, forces cannot be reimbursed for officers' scheduled working hours, but Mr Grunshaw asked for an exception as he claimed the fracking protests have been an extraordinary event. The Government has so far only provided £1.4 million, the minimum allowed under Home Office rules.
Energy firm Cuadrilla recently finished drilling a horizontal shale gas well at the Preston New Road site, the first such installation in the UK. The well stretches for around 800 metres, and Cuadrilla claims it could "significantly add to the UK's energy supply".
However, protestors are concerned about the possible environmental impacts of the fracking process, which involves blasting high-pressure jets of water into rock to release natural gas deposits.
Fracking is due to begin in Lancashire later this year subject to government approval.
A Home Office spokesperson said Lancashire Constabulary had been reimbursed in accordance with published special grant guidance.