Four forces appoint new ACCs
Warwickshire Police, Gloucestershire Constabulary, Dyfed-Powys Police and Suffolk Constabulary have all appointed new assistant chief constables.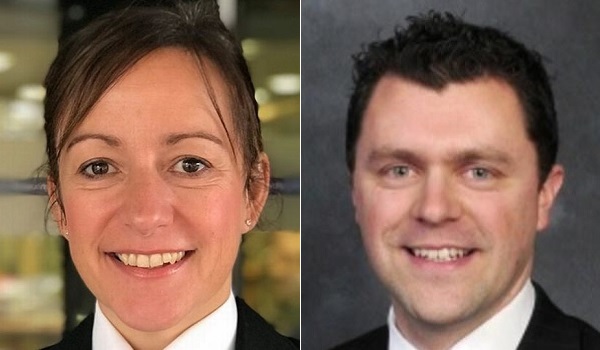 Alex Franklin-Smith, who was appointed temporary assistant chief constable at Warwickshire Police in August 2018, has now secured the role on a permanent basis with responsibility for the Local Policing Directorate.
Mr Franklin-Smith began his career with Surrey Police in 2002 before transferring to Warwickshire Police in 2007. In 2008 he joined the National High Potential Development Scheme and worked in a variety of uniform and detective roles up to the rank of superintendent.
In 2012, he was seconded to the National Crime Agency where he led a number of projects to tackle serious organised crime, terrorism and international drug trafficking.
On his return to Warwickshire Police, Mr Franklin-Smith became Director of Intelligence for the then two-force alliance with West Mercia Police. He led the introduction of new structures to deliver intelligence services across both forces, while nationally he led the design and implementation of new intelligence products, enabling the UK's first-ever national tasking and coordination process for law enforcement.
In 2015 he was appointed chief superintendent with responsibility for local policing services across Warwickshire Police, helping to deliver the criminal justice, custody, communications centre, crime bureau and firearms licensing services.
Mr Franklin-Smith, who takes up his position with immediate effect, has post-graduate and masters qualifications in leadership and management, and in March graduated from the College of Policing's Strategic Command Course. He is also a strategic public order and firearms commander.
"I'm extremely proud to be taking up the role of assistant chief constable for Warwickshire Police, a force known for its professionalism and dedication to protecting people from harm," said Mr Franklin-Smith. "Warwickshire is a great county to live and Warwickshire Police is a great organisation to work for. I am excited to continue to work with our fantastic officers, staff and volunteers to deliver the very best service our communities deserve."
Chief Constable Martin Jelley said he was "delighted" to appoint Mr Franklin-Smith as assistant chief constable in charge of local policing. "Clearly Alex takes up his position during what is a challenging time for the county and force but I know he has the skills and motivation to play a key role both now and in the future for Warwickshire Police," he added. "Alex has a proven track record in Warwickshire which I have no doubt he will build positively upon."
Rhiannon Kirk has joined Gloucestershire Constabulary from Gwent Police as assistant chief constable to lead on local policing and public contact.
She joined Gwent Police as a graduate on the accelerated promotion scheme in 1992 and went on to become the force's first female detective inspector.
After spending three years with the Regional Organised Crime Unit, she returned to Gwent Police to become head of crime and before being appointed temporary assistant chief constable in 2017.
Ms Kirk said she was "thrilled" with her appointment and was keen to start her new role at Gloucestershire Constabulary.
"I already feel welcomed, and look forward to meeting and working with staff, partners and members of the community," she added.
Chief Constable Rod Hansen said: "My congratulations are offered to Rhiannon. The quality of the applicants was extremely high and I thank them all for putting themselves forward.
"I look forward to welcoming Rhiannon and her 27 years of policing service to our team in the position of assistant chief constable."
Dyfed-Powys Police has confirmed that Emma Ackland, currently temporary assistant chief constable at Gwent Police, will join its team at Carmarthen in May as assistant chief constable.
Ms Ackland, who led the All Wales Collaboration Change Team, coordinating change across the four Welsh forces, had been on secondment at Dyfed-Powys Police since last year as temporary assistant chief constable.
She began her policing career with Gloucestershire Constabulary in 1994 and worked predominantly in uniform roles for the next ten years, in charge of borough command units and leading the force control room and specialist operations department.
In January 2017, she was appointed temporary assistant chief constable at Gwent Police, with force-wide responsibility for criminal justice, custody, data management, operations, neighbourhood policing and protective services.
Ms Ackland said: "I moved to Gwent in 2015 and love the passion among the Welsh forces for wanting to do the very best they can for the communities we serve and are always looking for opportunities to improve and deliver the best possible service.
"I'm originally from Warwickshire, but my love of the Dyfed-Powys area began back at the age of ten, when I enjoyed many family holidays in the Cardigan area. My mother now lives there and has done for many years. I feel as though I have a home there and have made many friends.
"Throughout my career, I have been committed and passionate about making a difference, both in terms of strengthening police relationships with the public and improving services. I am delighted to join Dyfed Powys Police and look forward to starting the next chapter of my career in an area which has already welcomed my family and I."
Chief Constable Mark Collins said: "I'm really looking forward to Emma joining us and completing our team of permanently appointed chief officers. We've gone through a lot of change over the last few years, with a number of temporary roles among the senior leadership team, but this now gives us a real opportunity to regroup and move forward.
"Emma's no stranger to us as chief officers in Wales – she has been central to much of the recent collaborative work and already has established relationships with many of us."
Next month Rob Jones, currently a chief superintendent with the Metropolitan Police Service, will transfer to Suffolk Constabulary as assistant chief constable.
Chief Constable Steve Jupp said: "Rob was an outstanding candidate for the position, bringing his knowledge and broad range of experience to the role here in Suffolk. He lives locally and knows the county of Suffolk well. He will be a fantastic addition to the Chief Officer Team and we look forward to him joining our family."