Four far-right UK terrorist plots foiled since Westminster attack, policing lead confirms
Right-wing extremism is posing a "more significant and challenging" present danger as policing made public for the first time the extent of its acute terror threat to British society.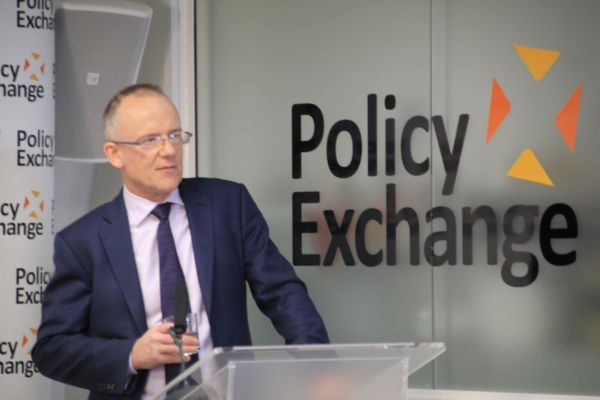 The outgoing UK head of counter terror revealed that in the past 12 months four extreme right-wing plots have been thwarted.
Ten well-publicised terror plots by Islamists, including the attack last March on Westminster, had highlighted the danger to the public, but Metropolitan Police Service Assistant Commissioner Mark Rowley used his valedictory speech at the Policy Exchange in London to illustrate the "growth" of right-wing terrorism.?
A third of referrals to the Government's?Prevent strategy, aimed at reducing radicalisation in communities, are now individuals engaged with far-right terrorism, he noted.
Security services have been warning of a shift since the murder of Labour MP Jo Cox in 2016, with the past year seeing five mainly?Daesh-inspired terror attacks leave 36 victims dead in London – on Westminster Bridge, at?London?Bridge, Borough Market, Finsbury Park mosque and Parsons Green tube station – and in the Manchester Arena.
Referring to the banned group National Action, he said: "For the first time we have a home-grown proscribed white-supremacist neo-Nazi terror group, which seeks to plan attacks and build international networks.
"The right-wing terrorist threat is more significant and more challenging than perhaps the public debate gives it credit for. Right-wing terrorism wasn't previously organised here."
Mr Rowley drew parallels between far-right groups and figures and the Islamist extremists they claim to despise as he delivered the seventh Colin Cramphorn memorial lecture entitled 'Extremism and Terrorism: The need for a whole society response'.
He warned that far-right extremists are working in similar ways to Islamist extremists, to create "intolerance, exploit grievances, and generate distrust of state institutions".
One of the four alleged far-right plots disrupted was that of white supremacist Ethan Stables.
Earlier this month,?he was convicted of plotting an axe and machete attack on a gay pride event at a pub in Barrow.
Mr Rowley said: "Islamist and right-wing extremism is reaching into our communities through sophisticated propaganda and subversive strategies creating and exploiting vulnerabilities that can ultimately lead to acts of violence and terrorism.
"Ironically, while Islamist and extreme rightwing ideologies may appear to be at opposing ends of the argument it is evident that they both have a great deal in common," he added. Both groups have a common goal of "increasing tensions and divisions in communities".
He gave the example of the Finsbury Park mosque attacker,?Darren Osborne, jailed for life?earlier this month, who grew to hate Muslims "largely due to his consumption of large amounts of online far-right material, including statements from former EDL leader Tommy Robinson, Britain First and others".
He then cited a further example of Anjem Choudary, the convicted Islamist extremist linked with a number of banned groups and terror attacks, including the murder of the soldier?Lee Rigby?in London.
"While Choudary became the de facto spokesperson for Islamism in the UK, mouthpieces from the far-right wing such as Tommy Robinson also attracted notoriety and attention," he said.
Mr Rowley –speaking two weeks before his 31-year career in policing comes to a close – pleaded for a "whole society response" to address the combined challenges of terrorism and extremism – and urged the service and MI5, the private sector, those in involved in social policy, integration and education, the family courts and social services, mainstream and social media and communities to play a role.
He warned that while terrorists still aspire to conduct "spectacular" attacks, a "lowering of the bar" has empowered those who do not need training or sophistication.
"The ease and speed in which vulnerable people can be radicalised through online propaganda and then move to attack planning has been a shocking feature of many of our cases," he added.
Painting a grim picture of the scale of the challenge facing policing and?MI5, he said there were more than 600 investigations encompassing Islamist, extreme rightwing and other motivations comprising more than 3,000 subjects of interest and a legacy of more than 20,000 individuals who featured in past terrorism investigations.
Comparing the last three years with the previous three, he said arrests have doubled – producing 587 charges and 478 convictions for counter terror-related offences.
In addition, since the start of the Syria conflict around 100 children have been safeguarded through the family courts as the ever-increasing global nature of counter-terror policing now operates in over 90 countries.
But he stressed there needed to be clear, defined lines involving the role of the police "and our limitations" in tackling terror, adding that we "would never want to stretch policing and the criminal justice system to become the main lever to tackle complex social and political issues".
He added: "My thrust is rather, to propose that we can collectively do more to make it even harder for the extremists' strategy to endure.
"As they target vulnerable or isolated individuals and communities to create fear and hatred it is critical we collectively do everything possible to undermine their efforts so we can dramatically reduce the domestic recruiting ground for terrorists.
"Remember the majority of people we arrest are British.
"This means every part of society not just those charged with national security responsibilities coming together to confront the twin challenges of terrorism and extremism."
His speech also touched on a controversial subject of whether convicted terrorists should be treated like paedophiles and have their children taken away from them.
Exposing children to extremist propaganda was "equally wicked" to keeping them in environments where there was sexual abuse, he suggested.
He said in too many cases, parents who were convicted of terror offences, were permitted to retain custody of their children,?leaving them open to the possibility of being radicalised.
Before the lecture, he told a gathering of journalists: "If you know parents are interested in sex with children, or if you know parents believe that people of their faith or their belief should hate everybody else and corrupt children for it, for me those are equally wicked environments to expose children to."
Mr Rowley took on his current role as the national lead for counter terrorism policing in June 2014 – a day before Daesh leader Abu Bakr al-Baghdadi declared the establishment of the so-called Islamic State caliphate.
Since that time Mr Rowley has been at the forefront of driving forward a step-change in UK policing efforts to counter and mitigate the emerging threat from Daesh as well as from other terrorist groups and violent extremist threats, including working with MI5 and other intelligence agencies to successfully stop 23 attacks since the murder of Lee Rigby in Woolwich in 2013 – including ten since March 2017
Mr Rowley looked back at 2017 describing it as "an extraordinary and most challenging of years", which saw five terror attacks – four Islamist and one extreme right wing. A total of 36 people died and hundreds more were injured in the attacks.
Speaking about his own reflections during his tenure, Mr Rowley said the acute threat from terrorism could only be tackled when the whole of society responded to the chronic threat from extremism.
He paid tribute to colleagues in policing and the security services for their extraordinary efforts over the past four years in confronting the threat.