Former student officer jailed for online sex offences
A former student police officer who sent sexual messages and explicit images of himself to a nine-year-old girl online has been jailed for four years.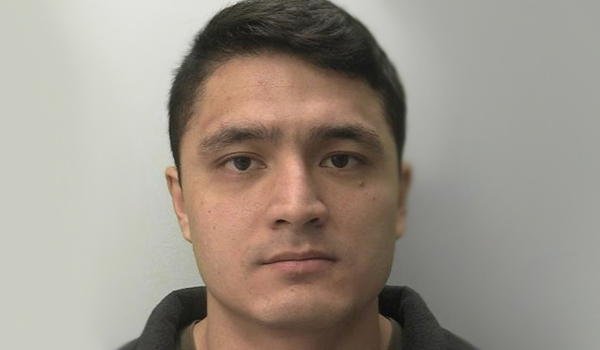 Jason Hicks, aged 31, also persuaded the victim into sending him intimate photos – and tried to do the same with four other children.
The offences were uncovered while Hicks, of Bishopsteignton, was in training to be a Devon and Cornwall Police officer.
He was immediately arrested and suspended and subsequently dismissed without notice.
Officers found more than 1,200 indecent images and videos of children on his laptop, iPad and other digital devices seized when a warrant was carried out at his home.
Hicks fully admitted offences dating back to 2012 in his first police interview – telling detectives he "felt relieved to have been caught", said Devon and Cornwall Police.
He pleaded guilty to a total of 13 charges and was sentenced at Exeter Crown Court on Thursday (February 2).
Hicks admitted engaging in sexual communication with a child – a nine-year-old girl from the South West – and inciting her to engage in sexual activity between March and April 2021.
He had befriended the girl online by posing as an older teenager on TikTok before moving onto Snapchat and exchanging sexually explicit messages with her.
The child's parents discovered she had been communicating with an adult male and contacted police in their area.
The force said inquiries and research later led officers to Hicks in Devon, who was at the time a student police officer and was still in training school. He had not yet conducted any public-facing, frontline duties.
Devon and Cornwall Police's Paedophile Online Investigation Team and Professional Standards Department executed a warrant at Hicks's home on January 20 2022.
He was dismissed without notice following fast-tracked misconduct proceedings in February 2022 and has been placed on the College of Policing Barred List.
Hicks was convicted of a further four counts of attempting to engage in sexual communication with children and another four of attempting to incite them to engage in sexual activity.
He exchanged sexual Snapchat messages with four children he believed were aged between 11 and 13 between December 2021 and January 2022.
"The victims have never been identified despite the best efforts of investigating officers. Analysis linked their IP addresses to the US, Sweden and the Yorkshire area," said Devon and Cornwall Police.
Hicks also pleaded guilty to three charges of making indecent photographs of children between September 2012 and January 2022.
The images and videos found on his devices involved children as young as eight and included 127 in the most severe 'Category A'.
Hicks was also issued with a ten-year Sexual Harm Prevention Order and the judge ordered the destruction of his digital devices.
He will serve three years on licence if he is deemed safe for release from prison after four years.
T/Assistant Chief Constable Steve Parker said: "We note and welcome the sentencing of Jason Hicks today for what are despicable offences.
"I would like to commend the bravery of the young victim in this case and her family in coming forward and reporting these appalling crimes.
"We remain committed to bringing perpetrators of such offences to justice and those responsible will always be investigated and prosecuted to the full extent of the law.
"All police officers, including those in training, have a privileged role in being part of a Force responsible for the safeguarding of vulnerable people. The actions of Jason Hicks were wholly wrong and illegal and he now faces the consequences of that.
"Our Paedophile Online Investigation Team and Professional Standards Department acted swiftly as soon as these offences were brought to our attention and Hicks was immediately arrested and suspended. Accelerated misconduct proceedings meant he was dismissed soon after.
"Devon and Cornwall Police takes any reports of illegal or inappropriate conduct extremely seriously.
"All officers and staff are expected to abide by the Code of Ethics and ensure the highest standards of behaviour, both on and off duty.
"I can reassure the public that the overwhelming majority of our officers and staff work diligently to help to keep the public safe, uphold our high standards and provide an exceptional service to our communities.
"We will always take the appropriate action when standards fall below those expected and continue to learn from any instances where they do."
Detective Inspector Simon Foster, who led the investigation, added: "Devon and Cornwall Police's Paedophile Online Investigation Team proactively seeks out offenders, no matter their position in society.
"This result demonstrates the commitment we have to safeguarding children in Devon and Cornwall.
"Our team conducts warrants following investigations into an individual's online activities which lead to arrests, charges, convictions and, most importantly, children being safeguarded and protected from harm.
"Our mission is to protect children from online predators, whether that be convicting offenders for possessing child sexual abuse material or protecting children who are groomed online."
David Barnes, District Crown Prosecutor for Crown Prosecution Service (CPS) South West, said: "Hicks used social media to find and contact young girls. He pretended to be a teenage boy, sending explicit messages and photographs while encouraging the girls to send him intimate images of themselves. At least one girl, aged just nine years old, sent photographs of herself to Hicks as a result.
"A swift investigation by the Devon and Cornwall Paedophile Online Investigation Team, working closely with the CPS, enabled us to build a strong case that resulted in Hicks pleading guilty to a total of 13 charges.
"Women and girls have the right to feel safe everywhere, including online. We will continue to work in partnership with the police and other agencies across the criminal justice system to strengthen and improve our joint approach to tackling these appalling crimes."