Former Police Scotland chief constable confirmed as new Inspector of Constabulary
The Home Office has announced that Phil Gormley has been appointed as Her Majesty's Inspector of Constabulary and Inspector of Fire & Rescue Authorities in England.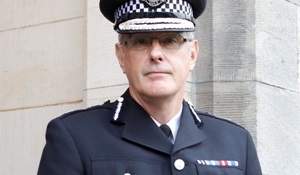 Mr Gormley will oversee inspections mainly in the north of England and the naional inspection of fire and rescue services and the annual all-force policing inspection by Her Majesty's Inspectorate of Constabulary and Fire & Rescue Services (HMICFRS). 
He replaces Mike Cunningham, who became the chief executive of the College of Policing in January. 
Mr Gormley said: "Policing and public service have been my life's work, so I am delighted to be appointed by Her Majesty. I look forward to working with colleagues at the Inspectorate and across policing and fire and rescue to continue to improve these vital services." 
Sir Thomas Winsor, HM Chief Inspector of Constabulary, said he was delighted to welcome Mr Gormley to HMICFRS and that he was chosen from a "particularly strong field of applicants". 
"We look forward to him bringing his wealth of policing experience to the role of HMI," Sir Thomas added. 
Mr Gormley joined the service in 1985 with Thames Valley Police. He later served as a commander with the Metropolitan Police Service (MPS) and deputy chief constable with West Midlands Police. He was appointed chief constable of Norfolk Police in 2010 and the deputy director general of the National Crime Agency (NCA) in 2013. In January 2016, he left the NCA to become the chief constable at Police Scotland. 
In February this year, Mr Gormley left Police Scotland while he was the subject of a number of bullying investigations by the Police Investigations and Review Commissioner (PIRC). Mr Gormley had been placed on gardening leave prior to his departure. 
At the time Mr Gormley explained his decision to resign, saying that it would have been "impossible for me to resume my duties in a meaningful way prior to the end of my contract". He firmly denied any allegations of bullying. 
Mr Gormley's predecessor at Police Scotland, Sir Stephen House, stepped down before the end of his contract in 2015 and has also recently found a senior position south of the border. 
Sir Stephen was appointed assistant commissioner at the Metropolitan Police Service in March and it was announced this month that he will be promoted to deputy commissioner at the end of the year. 
Mr Gormley will start his new role on October 22.