Former MPS officer David Carrick jailed for minimum of 30 years for 'unspeakably evil' crimes against women
Former Metropolitan Police Service (MPS) officer David Carrick has been handed 36 life sentences for an appalling catalogue of crimes against women.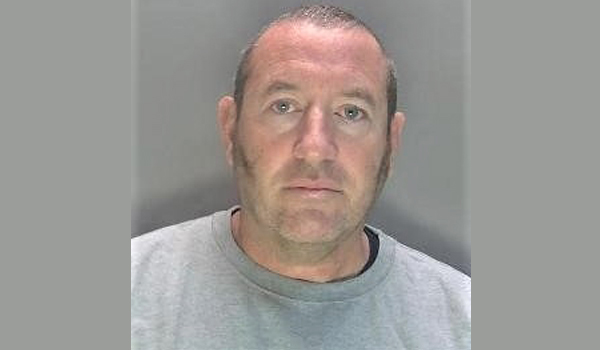 MPS Commissioner Sir Mark Rowley said Carrick's crime were "unspeakably evil" after he was sentenced to life imprisonment and ordered to serve a minimum of 30 years behind bars.
Carrick pleaded guilty to 49 offences against 12 women over nearly two decades, including 24 counts of rape and further counts of controlling and coercive behaviour, sexual assault and false imprisonment.
He was officially dismissed from the force at a disciplinary hearing held last month.
Carrick was sentenced at Southwark Crown Court on Tuesday (February 7) following a two-day hearing.
Sentencing Carrick, Justice Cheema-Grubb said: "You brazenly raped and sexually assaulted women, some of which you barely knew. You have before you a difficult time in custody for many years. You present a real danger to women and this danger will last indefinitely."
The Crown Prosecution Service (CPS) described the case as "one of the most shocking" it has dealt with involving a serving police officer.
Sir Mark said: "David Carrick's crimes were unspeakably evil. The detail is harrowing.
"He subjected these victims and survivors to the most degrading and inhumane treatment and yet they still showed the courage to come forward and to provide the evidence that led to his conviction.
"He exploited his position as a police officer in the most disgusting way. He should not have been a police officer. We weren't rigorous enough in our approach and as a result we missed opportunities to identify the warning signs over decades.
"I want to again reiterate my apology on behalf of the Met. We are truly sorry.
"I recognise that as a result of this case and other prominent recent cases, there are women whose trust in the police is profoundly shaken.
"I and tens of thousands of officers and staff in the Met are horrified by this man's crimes and recognise this will shake Londoners trust too."
Sir Mark added: "We have let down women across London but we are more determined than ever to put it right.
"I have been clear, we will rid the Met of those who corrupt our integrity by bringing the same intensive investigative approach to identifying wrongdoing in our own ranks as we do to identifying criminals in the community. Some other police services are starting to confront similar issues.
"Addressing systemic failures will take time, but we will be determined and relentless in rooting out the corrupt. Lifting the stone and confronting what we find beneath, will result in more difficult cases coming to light. We need the support of Londoners to get through it.
"This is not the time for me to lay out in detail the actions we are taking to root out those who corrupt our integrity. Today is about the victims' fight for justice.
"On March 31, we will be sharing the progress we have made on rooting out those who corrupt our integrity. We will earn back the trust and confidence of women and give Londoners the police service they deserve."
Speaking after the sentencing of Carrick, Peter Burt, head of the CPS Complex Casework Unit, said: "Today is about recognising the outstanding bravery of the victims. It often takes courage for anyone to come forward and report a rape but in this case, to overcome the mental and physical oppression they endured, may have felt insurmountable at times.
"We've heard the accounts of the women who suffered at Carrick's hands. He took away their control, their right to choose, their freedom – in some cases both physically and mentally.
"We cannot undo the pain and anguish of what they have endured, but I hope they can take this as a first step to rebuilding their lives knowing he can't harm them – or any other woman.
"We are so grateful to every woman who has come forward and supported this case.
"With each report that came in we had a clearer picture of who Carrick was and what he had done. The similarities between the victim accounts, detailing mental and physical torment at the hands of the same man, were our case."
Mr Burt thanked victims for "taking that step forward" and providing the vital evidence needed to prosecute Carrick.
With their help, he said the CPS worked with the investigation team at Hertfordshire Constabulary to "build such a strong case that Carrick had no choice but to plead guilty".
Mr Burt added: "We know there are victims of other rape and serious sexual offences out there and that many of you may be worried about being believed or whether you'll ever see justice done.
"We understand these concerns and want to reassure you that we are doing everything we can to improve how these offences are handled and are determined to see justice done for more victims of violence against women and girls.
"We hope seeing Carrick, a prolific abuser, manipulator and rapist, behind bars will encourage other women to come forward, knowing we will do all we can to hold the person responsible to account for their crime."
Justice Cheema-Grubb praised the investigation team for its hard work, and senior investigating officer Detective Inspector Iain Moor of Hertfordshire Constabulary said: "I am extremely relieved and pleased that as a result of the relentless hard work of my team and the courage of the victims in this case, that a serious and prolific sex offender is now going to be behind bars for a very long time.
"This has been a very long and challenging investigation and it is a testament to the bravery of the victims, who were prepared to relive their ordeals and face him in court, and my officers unwavering and dedicated pursuit for justice, that David Carrick has been handed a life sentence with a minimum term of 30 years.
"Our investigation does not stop here however, we have set up a special reporting portal to allow people to continue to share information about David Carrick with us.   If anyone else thinks they have been a victim, we still want to hear from you and we will support you.
"As a serving police officer he has brought shame on the profession and was not fit to wear the uniform, but I hope that our determination to get justice for the victims in this case, will go some way to reassuring the public that nobody is above the law and we will bring people like David Carrick to justice."
National Police Chiefs' Council chair Martin Hewitt said: "It is yet another dark week for policing. But it's nothing compared to the decades of pain and trauma suffered by the victims of David Carrick and others who should never have been in uniform. This is a week for them, for them to be heard and for their courage and bravery to be commended.
"Police chiefs have been strengthening their misconduct processes, addressing cultural problems and increasing action against violent men over the past two years.
"In the coming months, the public should expect to see more investigations launched, more sanctions, more sackings and more charges.
"Some of these will contain more shocking detail. This will be painful, but it is necessary as we root abusers and corrupt individuals out of policing and eliminate misogynistic, racist and discriminatory behaviour.
"I know my words today won't rebuild the trust that has been lost; that will only be rebuilt by the public seeing the results of our action in the coming months and years."
The Police Federation of England and Wales said the sentencing of serial rapist Carrick "has once again cast a shadow on all those who work within policing across England and Wales".
In a statement it added: "The case itself has highlighted gaps in the vetting and misconduct processes that could have identified the threat posed by the Metropolitan Police officer much earlier, and this must be acted upon.
"This person should never have been a police officer and his vile abuse of authority is unconscionable.
"No sentence will ever ease the pain for the victims, or their family and friends and it will be impossible to undo the terrible damage this man has inflicted. Our thoughts are with the victims at this difficult time."
Susan Hall AM, chair of the London Assembly Police and Crime Committee, said: "The crimes committed by David Carrick are truly horrifying and our thoughts remain with his victims.
"We commend their extraordinary strength and courage in coming forward and giving evidence to end his campaign of abuse.
"Londoners and the thousands of dedicated officers in the Metropolitan Police are appalled that this man was able to abuse his position of power for so long, with so many chances to catch him missed by police.
"We welcome the apology from the Met to his victims and its recognition of the serious failings in this case.
"We will continue to scrutinise the Commissioner and the mayor to ensure that they reform the Met and rebuild trust."
Mayor of London Sadiq Khan said: "My thoughts are with Carrick's victims today. I want to pay tribute to their bravery and courage. By coming forward they have helped to protect the public and rid the Met Police of a dangerous and prolific offender who abused his position as a police officer in the worst possible way.
"This should never have been allowed to happen and must never happen again. There can be no hiding place for those who abuse their position of trust and authority within the police. I want to reassure the public and all the brave officers and staff who want to speak out that under the new Commissioner any allegation of misconduct will be taken seriously and handled sensitively. I urge people to come forward to report any unacceptable behaviour.
"I support the renewed action being taken by the Commissioner Sir Mark Rowley to review past misconduct cases and I welcome the widening of the Angiolini Inquiry to consider Carrick's crimes and look at vetting and recruitment procedures and the extent of misogynistic culture in policing.
"I'll continue to support and hold the Met to account to ensure we root out all those who are unfit to serve as police officers and deliver the urgent reforms and step change in culture and performance required. As mayor, I will not be satisfied until Londoners have the police service they deserve."
Home Secretary Suella Braverman said: "The crimes of David Carrick are a scar on our police, and it is only right that he now faces at least 30 years behind bars. I pay tribute to the brave women who have come forward to hold him to account for his vile abuse.
"It is vital we uncover how he was able to wear the uniform for so long, and I welcome the Angiolini Inquiry's investigation into David Carrick's criminal behaviour and the decision-making around his vetting.
"There is no place in our police for such heinous and predatory behaviour, and I look forward to receiving Lady Elish's findings."
Farah Nazeer, chief executive of Women's Aid, said: "This sentence will not diminish the fear and trauma that this dangerous predator inflicted on his victims, who will have to live with the consequences of his brutal and dehumanising actions for the rest of their lives.
"It will not restore the grave lack of trust that women currently have in the police and criminal justice system to protect them.
"Carrick was a serving police officer who abused his authority to commit the worst crimes against women over a 17 year period; he had come to the attention of the Met and three other forces nine times but was still not considered a high-enough risk to warrant a thorough investigation into his conduct.
"The women whose testimonies have put this violent perpetrator behind bars must be commended for their courage and bravery.
"We hope that their strength will show other women who have been silenced by fear and intimidation that justice is possible."
She added: "Apologies must be accompanied by urgent reforms to ensure that dangerous and predatory men do not belong in any police force, and a robust commitment must be made that women who report sexual assault and domestic abuse will be believed, supported and that they will receive justice.
"We have had enough and the time for change has long passed.
"We need nothing short of complete, system-wide holistic reform of the police and across all sectors of the justice system to ensure women are protected from predatory men.
"This must range from recruitment and vetting policies, to management and misconduct process, to leadership and of course training which aims to eradicate sexism and misogyny.
"Change must be led from the top. All police forces must prioritise the reforms needed, and ultimately responsibility for the policing response to women lies with the Home Office – we need ministerial oversight and action to drive change."