Forensic advances could help identify killers of RUC officers
Detectives investigating the "cold-blooded murder" of three Royal Ulster Constabulary (RUC) police officers 38 years ago hope advancements in forensic capability and new witness testimony will lead to identifying those responsible for the killings.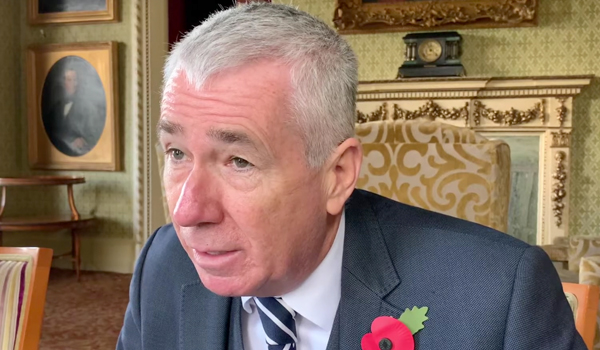 Sergeant Sean Quinn, 37, and PCs Paul Hamilton, 26, and Allan McCloy, 34, were killed at around 2.15pm on Wednesday, October 27, 1982, when an explosion threw the unmarked Ford Cortina they were travelling in 70ft into an adjoining field.
The RUC officers were attending a call received earlier in the day from a member of the public. They had entered Kinnego Embankment just north of the M1 turn off at Lurgan and the explosion took place just after they had passed the turning for Oxford Island.
Despite various investigations and nine arrests, no one has ever been charged with the murder of the three officers. Two people were convicted of withholding information under Section 5(1) of the Criminal Law Act (Northern Ireland) 1967.
Last year, the investigation – codenamed Operation Turma – was taken on as part of Kenova, a series of historical investigations led by former chief constable Jon Boutcher.
Today (October 27), on the 38th anniversary of the deaths, he made a plea for witnesses to come forward.
"This was cold-blooded murder of three young men," said Mr Boutcher. "The explosion tore their vehicle apart, killing them instantly and wrecking countless lives, leaving three widows and five children to grow up without their father. PC Paul Hamilton never even got to meet his unborn son. Nothing can fill that void or replace those stolen memories, but, at the very least, their families deserve to know the truth.
"The explosion came during a period of sustained bombings, but I have no doubt that the identity of those involved will be well known to some. We have made huge strides forward in forensic technology in the years since this happened, and Kenova is exploiting all the opportunities which were not available to previous investigations."
He added: "We have made encouraging progress, but we still need people to come forward to help us complete the jigsaw and give the families of these three officers the answers they so desperately need."
The explosion left a huge crater in the road – approximately 15ft deep and 40ft wide. Immediately after it struck, witnesses described seeing two people running away from the scene.
It is believed those responsible for the explosion escaped on a red Honda motorcycle, which had been reported stolen the previous day. The motorcycle and helmets were recovered close to Francis Street a short time after the incident. Images of these helmets are being released as part of the renewed appeal.
Mr Boutcher said: "We are re-releasing images of the motorcycle helmets which Kenova believes were used by the people who were seen to flee the scene shortly after the detonation of the bomb.
"This will hopefully jog the memories of people who may have seen these individuals wearing or removing the helmets on October 27, 1982. If people saw those responsible, notwithstanding that it was such a long time ago, I am sure they will still remember it well, because they will have soon realised just what an evil act those men committed that day. Help us to help these families."
Reacting on behalf of the families, solicitor Kellie Morwood from the Belfast firm, Edwards and Co. said: "Anniversaries are always difficult for us.
"Thirty-eight years on from this cowardly IRA attack, we are still grieving and feel the loss of our loved ones most keenly. For a long time, we believed this appalling terrorist crime would remain unsolved.
"Now, however, with 'encouraging progress' achieved, we have been given renewed hope that the culprits will be identified. We would echo the appeal made by Mr Boutcher and ask those who know anything about the attack to come forward to help deliver some closure for us."