Forces across the country mark the start of Black History Month
Police forces around the country have launched a series of events to mark the start of Black History Month, highlighting their efforts to better engage with Black, Asian and minority ethnic (BAME) communities.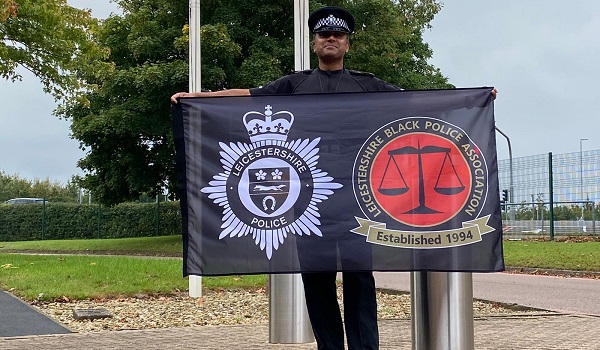 This year's event has even greater significance than usual due to the worldwide condemnation and rise of the Black Lives Matter movement that followed the death of George Floyd in the United States.
Due to the Covid-19 pandemic, many forces are celebrating in virtual format. At Leicestershire Police the month will end with an open event on Friday October 30 which will bring together people to talk about what black history means to them, chaired by the local Black Police Association (BPA).
In addition, police headquarters will be flying a special flag showing the force crest and the BPA logo for the whole month. For officers, there will a special Covid-compliant lunch served in the canteen on Wednesday October 28 of Caribbean food. The force will also be featuring some of our own staff on our social media channels, highlighting what black history month means to them.
Leicestershire Chief Constable Simon Cole said: "There have been some really truly remarkable people from the black community who have been an integral part of the history of Leicestershire Police from the first firearm's officer of a black Afro-Caribbean descent (PS Mel Thomas), the first black head of forensics (Viv Galloway) through to the most senior black officer (ACC Chris Thomas).
"They all have played an important part, as role models and as community ambassadors. They are an example to everyone that a career in the police service really can be a good choice and I am happy we are able to celebrate them this month."
Police and crime commissioner Lord Willy Bach said: "This month gives us the opportunity to celebrate the lives and achievements of our black fellow citizens who add so much to both society and in particular to our Police Force in Leicester, Leicestershire and Rutland.
"In a year during which have all faced an unprecedented level and diversity of challenge I am reminded how fortunate we are to live in a community with people from many different backgrounds. Thankfully, we have addressed these issues together and together we can recognise the positive progress that we have made."
Yakub Ismail, Chair of the BPA said: "This is the time to celebrate black history and the African spirit of Ubuntu which is about togetherness. We have all felt the impact of the 'Black Lives Matter' movement and this month gives us the opportunity to show that this saying is true for us at Leicestershire Police."
At Hertfordshire Constabulary, understanding Black history and celebrating achievements has been chosen as the theme for the month.
Chief Constable Charlie Hall said: "October not only gives us an opportunity to celebrate the contribution of black, Asian and minority ethnic communities across the county, it also enables me to re-state the force's determination to tackle racism and hate crime.
"It is also a time when we should reflect on the history of our diverse communities, their key and defining moments, and the different journeys individuals have been on. Understanding the past helps us to shape and define a more just and equitable future.
"Given the backdrop of 2020 with Black Lives Matters protests and the apparent discriminating impact of COVID-19, there has never been a more important time to support and listen to our BAME communities, in a drive to improve the service we deliver to keep people safe.
"Across October, my teams of officers and staff will be involved with various engagement events, celebrations and operations, which I hope will be well received in the community.
"I am hoping Black History Month 2020 will help us understand even more and be a fitting celebration of all that individuals from black, Asian and minority ethnic communities contribute."
Nottinghamshire Police will use the month to launch its Our Culture, My Life campaign, with weekly activities taking place focusing on different aspects of black culture.
Each week will focus on a key area, with food, events and celebrations, music, hair and fashion all being covered by the force.
Superintendent Suk Verma said: "As a force, Nottinghamshire Police is committed to working towards being a service that represents the communities it serves. We need to be alive to cultural movements, be a part of the conversation moving forward and show the public that we stand with them against prejudice, injustice and hate.
"Part of this can be achieved through engagement and education from both police and our communities. We have a number of initiatives being run in schools as part of our schools and early intervention officer programme alongside a growing cadet group.
"Further to this, we have seen a rise in the number of BAME officers joining the force in recent months but there is still work to be done.
"I'd ask the public to speak with our officers and feedback any concerns they have in their area so that issues can be addressed. By working together, we can learn how to improve our service and demonstrate to people of all cultures that we are here for them. Through this, we can also show that the force is inclusive and open to all from a career perspective."
Gwent Police is making the month by hosting a series of online seminars focusing on what the organisation can do to better represent the area's diverse communities.
Yesterday (October 1) saw the second such event hosted by Chief Constable Pam Kelly and police and crime commissioner Jeff Cuthbert and other local leaders who came together to provide their thoughts on policing and discuss what Gwent Police can do to improve its services.
The session was also joined by the Independent Office for Police Conduct, who were interested in the force's approach to community engagement.
Chief Constable Kelly said: "This event is all about listening to people's views and taking action. We've already achieved a lot since our first online event – through the establishment of new community support officers and providing additional training for officers. I want to thank everyone who contributed to the event. I look forward to continuing to make a real difference across Gwent."
Mr Cuthbert added: "It's so important that we improve the diverse nature of Gwent Police. The more representative of our communities we are, the better our understanding of the matters of most significance to our communities. This event allows us to bring leaders from across our force area together and take real action."