Force wins award for 'positive' community engagement with events celebrating black culture
Nottinghamshire Police has won an award for its part in organising a celebratory showcase that also helped support children during the school holidays.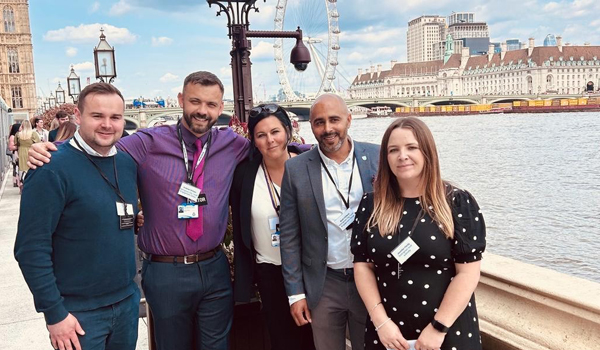 The force helped organise four-days of events celebrating black culture last October that provided a snapshot of the wider activity taking place as part of Black History Month.
Nottinghamshire Police said it allowed officers to "positively engage" with people and show them as the "human beings they are behind the uniforms".
Police, partners and various organisations supporting local communities in Nottingham all came together for the events, which celebrated the different aspects of black culture.
From showcasing the creative talents of local young people through hosting live musical performances, to running a range of different sporting activities, and holding positive discussions around racism in society, the programme engaged with young people in a variety of ways.
An educational documentary entitled 'Blacks Can't Swim' was also premiered at a special event at Trent Bridge Cricket Ground, which addressed how racial stereotypes surrounding swimming have contributed to some people from black and minority ethnic backgrounds not being able to swim.
Nottinghamshire Police worked closely with Nottingham City Council, Trent Bridge Community Trust and other partners to organise the events, with this partnership working being recognised with an award that was presented at the House of Commons this month.
Each of the events, which took place during the October half term break, were part of and funded by Nottingham City Council's Holiday Activity Fund (HAF), which provides activities and food for children eligible for free school meals over the school holidays.
As part of this, all the eligible young people that attended any of the events across the four days were given a free hot meal, while also being able to enjoy the fun and educational activities on show during the half-term break.
Sergeant Jemma Connor-Iommi, who organised the event for Nottinghamshire Police, travelled to London to collect the HAF regional award, which honoured the way the force had worked with partners to incorporate the programme into its important Black History Month event series.
She said: "We are incredibly proud to have been able to work so closely with our partners, including the city council's HAF team, to deliver this programme for the benefit of the community.
"As well as highlighting the truly invaluable contribution the black community has made – and continues to make – to our society, these celebration events also allowed us, the police, to positively engage with the people we serve and show us as the human beings we are behind the uniforms.
"The HAF programme carries out some incredibly important work helping feed and keep children occupied during the school holidays, so it was a great privilege to be able to incorporate this into our celebrations.
"This wouldn't have been possible without us collaborating with our partners, and we are keen to continue building on these positive relationships going forward, so that we can deliver more events of this kind for the benefit of the community."
The HAF programme began in 2018 when the Department for Education started to invest in local projects to deliver free holiday clubs and food to children during school holidays, including Nottingham, where Nottingham City Council now oversees the programme locally.
Councillor Cheryl Barnard, portfolio holder for children, young people and education at Nottingham City Council, said: "We're delighted that this partnership work, carried out through the Holiday Activity Fund scheme, has been recognised nationally and I thank everyone who was involved in it.
"We know what a difference these free clubs and food support make to families across the city during the school holidays. In areas of the country like Nottingham, it's a genuine lifeline for families who are struggling."