Force uses drones to spot dangerous drivers
Drones are being used by specially trained officers to spot dangerous driving at known accident hotspots.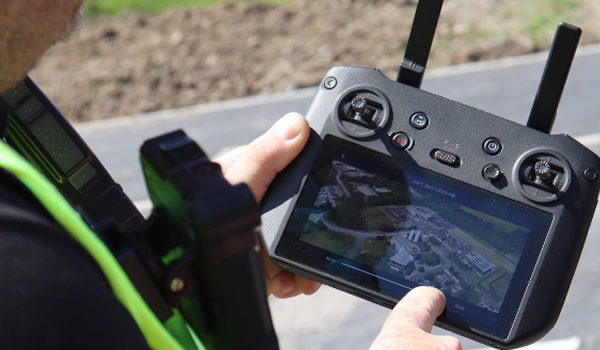 Dyfed-Powys Police says officers will use the drones to identify and, if necessary, prosecute road users that drive or ride dangerously.
The forces says it has some of the most popular routes in the UK for drivers and motorcyclists.
"Unfortunately, a small minority of riders and motorists continue to drive in a dangerous, reckless or anti-social manner, which impacts on the safety of themselves and other road users," it said.
Last year there were 90 serious-injury collisions and 13 fatalities on Powys roads.
"These incidents not only put a huge drain on resources, but more importantly caused a lifetime heartache for families who lost loved ones, or someone who has sustained life-changing injuries," said Dyfed-Powys Police.
In a bid to reverse this concerning trend, the force said it is sending up the drones to help officers identify people carrying out dangerous manoeuvres at known accident hotspots.
Inspector Gareth Earp said: "Our Roads Policing Unit in partnership with Go Safe are gearing up for the coming tourist season with a focus on improving road safety and driving behaviour.
"Every year we welcome thousands of visitors to the beautiful counties that make up the Dyfed-Powys area and as a unit we are committed to ensuring that both visitors and residents are free to travel safe from harm.
"In line with our aims to improve road safety as part of Operation Darwen and Project Edward (Every Day Without a Road Death), officers from our Roads Policing Unit will now regularly be joined by officers from our specialist drone unit and the Go Safe team and will work together to target this small minority of reckless individuals.
"This joint approach has the aim of improving road safety at its heart, with education and elimination of reckless behaviour as a core principle, coupled with the taking of enforcement where necessary."
Dyfed-Powys is using the specialist kit to identify people committing the 'fatal five' offences, such as careless driving, speeding and using a mobile phone, with suspected sightings relayed to officers on the ground to follow-up.
Insp Earp added: "Officers will be taking a highly targeted approach to this new combined initiative and activities will be carefully focused on key 'hot spots' which have been identified from collision data and other relevant information.
"We acknowledge the fact some members of the public may be concerned at the wider use of police drones and would like to offer reassurances to them that this is about improving road safety for all road users and is simply another tool now available to us to assist us in our mission to reduce collisions, prevent harm and to promote the safe enjoyment of our beautiful force area by residents and visitors alike."
Durham Constabulary is also using new technology to crack down on driving offences.
Officers from the Durham Roads and Armed Policing Unit have been deploying a new sensor test vehicle in recent weeks which uses the latest artificial intelligence technology to detect drivers who use their mobile phones or are not wearing their seatbelt.
A specialist camera on top of the vehicle can scan all vehicles passing and record any offences, with officers then verifying the results and dealing with offenders.
The force is one of the first in the country to use the technology and the recent two-day deployment to the A1(M) and A19 identified 85 drivers breaking the law.
Eighty-one per cent of those stopped were not wearing a seatbelt and 19 per cent were caught using their mobile phone.
Inspector Kevin Salter said: "It is staggering that we are still having to remind people to wear a seatbelt – the most basic life-saving equipment in a vehicle that has been in place for more than four decades.
"We also know first-hand the fatal consequences that can result in these careless actions by drivers and there really are no excuses in 2023 to be committing these offences.
"We will continue to target selfish drivers and thanks to Op Snap it is now even easier for us to prosecute those who put lives at risk."