Chief constable has considered issuing Tasers to all officers since 2012
The decision to issue all frontline Northamptonshire Police officers with conducted energy devices (Tasers) was influenced by the brutal killing of two Greater Manchester Police officers seven years ago.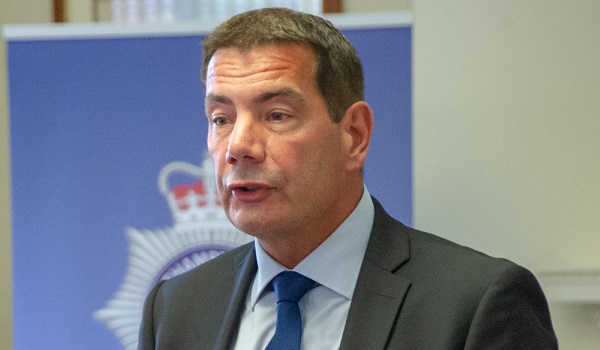 Chief Constable Nick Adderley said the change in policy announced on Tuesday (August 20) follows a 50 per cent increase in assaults on officers over the past two years.
The move comes in the aftermath of the death of Police Constable Andrew Harper on Thursday (August 15), which resulted in an outpouring of support from the public and politicians.
On August 10, West Midlands Police Constable Gareth Phillips was left with potentially life-changing injuries to his head, pelvis and abdomen after he was knocked down by a suspected car thief who had highjacked the officer's patrol vehicle. The police BMW reversed into PC Phillips before driving over his body as he lay pinned under the car.
Two days earlier, Metropolitan Police Service Police Constable Stuart Outten was stabbed in the head with a machete as he tussled with the driver of a van suspected of having no insurance. Despite receiving serious head and hand wounds, he managed to subdue the attacker by discharging his Taser.
And two weeks ago, 37-year-old Louey Kostromin was jailed for eight years at Northampton Crown Court after biting part of a Northamptonshire Police officer's ear off.
However, Mr Adderley told Police Professionalthat he has thought about broadening the deployment of Tasers since he was Greater Manchester Police's (GMP) Tameside division commander when two of his officers – Police Constables Fiona Bone and Nicola Hughes – were brutally murdered by Dale Cregan in 2012.
When Cregan launched his attack on the officers, using a hand grenade and 32 shots fired from a Glock pistol, PC Bone drew and discharged a Taser. However, because of the nature of the attack, she was unable to make contact with Cregan – the barbs instead struck the ground.
Mr Adderley said he often plays the incident back in his mind and had she been able to make proper contact she could have saved herself and her colleague.
"That's how long I have been thinking about this and, having been chief constable [in Northamptonshire] for 12 months, seeing the level of violence increasing against police officers I am happy it is the right decision to make."
Mr Adderley said it would take between 18 months and two years to train and equip 338 extra officers in response, neighbourhood and proactive operational teams who want to carry the device, taking the total number of officers trained to use Taser to 562.
The force said: "Training will cost around £600 per officer and while the cost is not insignificant, when compared to the level of injury and days lost due to sickness, it pales into insignificance."
The Police Federation of England and Wales (PFEW) has called on all chief constables to follow Mr Adderley's lead.
An operational decision for chief constables, the issue of the conducted energy devices has been controversial with some believing they can escalate the level of violence encountered. And civil liberty campaigners claim the electric shock has caused the death of a number of people subjected to its use, particularly in the US.
However, most forces have struggled to roll out the devices to a greater number of officers due to the cost. The new X2 version was given approval in 2017 to replace the now unsupported X26 model that has been in use across the UK since they were first introduced in 2004. Some forces have been slow to procure the replacement as they continue to make savings as a result of austerity measures introduced over the past nine years.
The PFEW has previously called on the Home Office to fund an increased supply.
A recent PFEW survey found 94 per cent of officers believe Tasers should be issued to more frontline officers.
Posting on Twitter, PFEW chair John Apter said: "If [Nick Adderley] can do it, all should do it. Time for chiefs to do the right thing and make Taser available to all their officers who want it."
Mr Adderley said it will not be mandatory to carry a Taser – no one, as yet, has said they would not – but in a video message to the forcetoday he reiterated the choice.
As a chief officer in both GMP and Staffordshire when Taser has been used and people have died through other complications, Mr Adderley said anyone who uses or draws Taser has to justify why they have done it and, if they have used it inappropriately, there will be consequences.
"Even if they use it appropriately, and someone is significantly injured, or worse, there will be an investigation," he explained. "Officers, before they make a decision as to whether they want to carry this or not, need to be aware of the consequences and responsibility that is placed on them."
Mr Adderley said he recognises the concerns of campaigners that devices may be used on someone vulnerable if present at every incident, however, he is satisfied that the training officers receive, from the day they join, and refreshed every year, develops their effective decision-making and conflict resolution.
"The first thing they should be taught is verbal reasoning, to talk people down, but when the level of violence escalates quickly or where it is clear a criminal is intent on invoking violence on an officer, it is right I give them the right tools, kit and training to neutralise that threat against them. Taser is one of those options," he said.
He added that not all officers will pass the stringent four-day Taser training course as it requires a demonstration of discipline, knowledge and ability of how to issue relevant commands, which requires a suitable mental and physical aptitude – current pass rates are around 92 per cent.
Supported by the National Decision Model and Conflict Resolution Model, officers are taught not to be "fast and loose" with Tasers, Mr Adderley added.
"We only discharged Taser eight times last year. Its presence is usually enough to act as a deterrence for anyone who considers using violence towards any member of my staff," he said.
"I can't sit here and preside over a situation where my officers are exposed to increasing levels of violence when at my disposal is equipment that could save an officer's life. Enough is enough."
Nationally, when a Taser is drawn or the subject is 'red-dotted', 85 per cent of incidents are resolved without the need for the device to be discharged.
Kent Police announced in March that it would also issue Tasers to all frontline officers. Police and crime commissioner Matthew Scott said he would make an additional investment into equipping all officers who wanted to carry the devices, to send "a strong message that our people, who are our number one asset, are a top priority".