Force remembers heroic officer
Nottinghamshire Police has paid tribute to Police Constable Christopher McDonald, the first of its officers to be killed in the line of duty, laying a wreath at force headquarters to mark the anniversary of his death.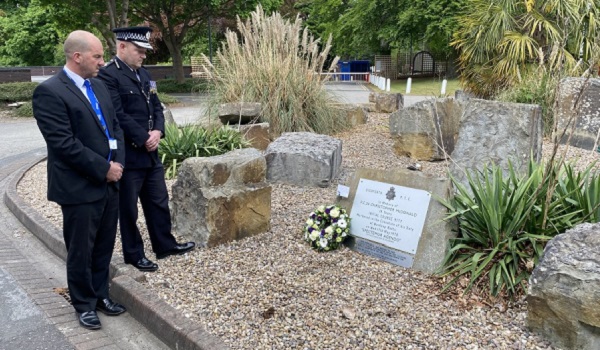 Nottinghamshire Police Federation chair Mark Petrovic said: "Sunday May 17 is the anniversary of Christopher's death, when he was so tragically killed whilst out and about fighting crime. He was the first ever police officer in Nottinghamshire to be killed in the line of his duty. He was only 19 years old.
"Even though this was 42 years ago, I would like all our police family to take time and reflect on what a brave officer Christopher was. We have laid a wreath at police headquarters in memory of Christopher. We still keep in touch with Christopher's mother and sister, so that they know that his police family will always remember him."
His sister Elaine Atkinson Dean said "The family are really grateful that Christopher is remembered in so many different ways by the police, from the anniversary of his death through to the Unity Tour and National Police Memorial Day. Sadly that event has been cancelled this year because of the Covid-19 crisis. It is nice to see Nottinghamshire Police remembering their own."
PC McDonald was born on March 19, 1959 and joined Nottinghamshire Police in 1976 as a police cadet and completed his police training at the National Police College at Dishforth.
After completing his training he was was posted to police the Worksop area. At that time the police were investigating a series of commercial burglaries committed overnight around Worksop town centre.
On May 17, 1978, PC McDonald was working a night shift in Worksop and was alone on foot patrol when he came across a jeweller's shop premises being burgled. He bravely confronted a gang of offenders who subsequently fled the scene.
PC McDonald gave chase, running towards the river Ryton and managed to alert other officers over the radio about the crime. The last report the officer made over his radio said "I am chasing men over the waste ground…"
A number of officers attended the scene and commenced a huge search of the immediate area. Despite all these efforts, PC McDonald could not be located.
With daylight the searches resumed and PC McDonald's body was later found in the river, 200 yards away from the scene of the crime. A later post-mortem revealed that the officer had sustained multiple head injuries and had drowned.
Later that same day, 20-year-old Peter Albert Loveday was arrested on suspicion of the murder. He admitted fighting with the officer, taking his truncheon and using both it and a brick to beat him about the head and face before leaving him by the side of the river. At the end of the trial in August 1978, Loveday was found guilty of murder and sentenced to life imprisonment.
In 1980, PC McDonald was posthumously awarded the Queens Commendation for Bravery.
Chief Constable Craig Guildford said: "Christopher made the ultimate sacrifice in protecting the community and doing his job as a young police officer 42 years ago. I believe it is right and fitting that we remember him and that our thoughts are with his family."