Force offers substantial reward to find killer of MP's son
A £20,000 reward has been put up for information about the killing of a "community hero" who received a police bravery award for stopping a rapist from attacking a teenage girl.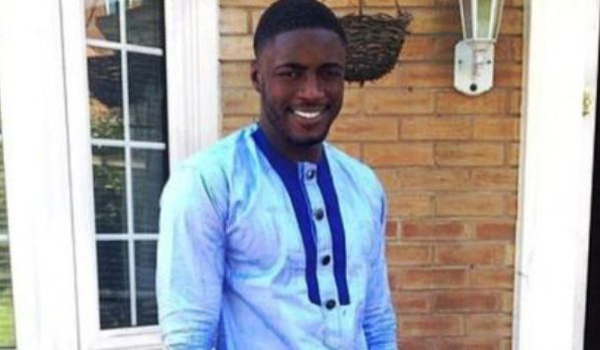 Abraham Badru, 26, was shot dead yards from his mother's home in the Dalston district of east London on March 25.
Detective Chief Inspector Noel McHugh – the officer leading the murder inquiry – believes the "community" holds the answer to the death of a "striking young man and a real contributor to society".
The Metropolitan Police Service (MPS) is offering a substantial award of up to £20,000 for information leading to the arrest and prosecution of the offender/s.
Mr Badru received the National Police Bravery Award nearly a decade ago after giving evidence against a gang who raped a girl on the Frampton Park Estate in 2007.
The investigation into Mr Badru's killing is one of 48 such inquiries the MPS has launched so far this year – eight in January, 15 in February, 22 in March and three in April – with the monthly murder rate in London overtaking that of New York for the first time in modern history.
MPS detectives know that on the night of his death, Mr Badru was approached by a suspect or number of suspects who shot him "without warning".
Just before the incident, the 26-year-old son of a Nigerian MP had parked his black Mercedes in Ferncliff Road, near an alleyway leading to Langford Close and Foxley Close. Mr Badru then opened the boot of the car to look for a drink, while on the phone to a friend. He was then shot.
Det Chief Insp McHugh said the killing is "something truly out of the ordinary, a community hero being murdered", adding: "And the answer to Abraham's death lies in the community."
The investigation lead added: "Abraham was a striking young man and a real contributor to society." His 2009 award showed "such courage and an overwhelming sense of what was right and wrong clearly demonstrated his strength of character".
He said: "This is a tragic and shocking incident – a talented young man with ambitions and so much to live for cut down in his prime. His family and friends cannot comprehend what has happened."
The family of the aspiring PhD student have paid tribute to the young man with a "beautiful soul."
In a powerful statement, his family said it is "beyond heartbroken" and urged the public to help find his "evil" killer.
The family describes Mr Badru, whose full name is Abraham Oluwatosin Dolapo Badru, as a "bright light who was put out by the hands of [an] evil person".
Mr Badru, who worked as a football coach after completing his Masters in sports coaching at the University of Gloucestershire, was described as "goal-driven, a very ambitious, hard-working young man who also dedicated his time, skills and talent to different charities for different causes".
"He was an upstanding individual who advocated unity and peace in his community and to those that surrounded him."
His father Dolapo Badru, 62, is a member of the Nigerian House of Representatives, the country's 360-seat equivalent to the House of Commons.