Force highlights subculture hate crime
A powerful new campaign #BehindtheUniform aims to raise awareness on how people from alternative communities or subcultures, such as punks, goths or emos, should be treated equally despite the way they look.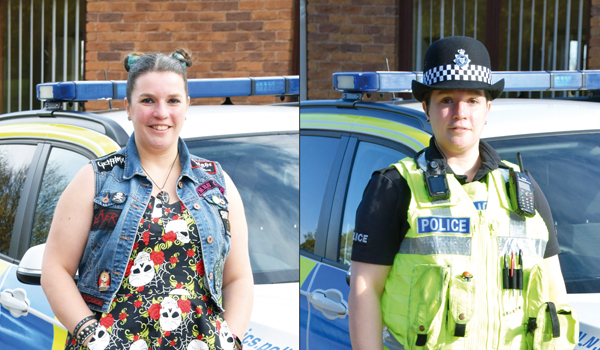 Through a series of short videos and photographs, four police officers from two forces – Leicestershire Police and Lincolnshire Police – have teamed up to emphasise the important message on alternative subcultures within society.
Leicestershire Police has produced a series of hard-hitting material as a way of dispelling negative attitudes and behaviour because of a person's appearance.
It is intended to stress that despite their working uniforms, police officers understand first-hand what it is to like to be part of a subculture. Created in-house, the campaign is driven by an officer who dresses 'alternatively' – using real staff members picked to represent the alternative community due to the way they dress and the lifestyles they lead outside the workplace.
One video shows Matt Ablewhite – a call handler in the contact management department at Leicestershire Police who is also a special inspector – dressed in his regular office attire entering the workplace. He is then seen leaving the building wearing his 'heavy metal-style' clothes.
A second video opens with PC Nick Reeve in uniform, before showing him removing his police helmet and then cutting to him wearing leathers, putting on his skull and crossbones emblazoned bikers helmet and mounting his motorcycle. Another shows a female police officer getting into a patrol car dressed in uniform, then getting out wearing her 'alternative' attire.
The joint campaign between the two forces follows the tenth anniversary last August of 20-year-old Sophie Lancaster's death, which has had a significant impact on the way hate crime incidents are reported. Ms Lancaster was attacked in a park in Lancashire in 2007 along with her boyfriend, who survived the attack, just because of the way they dressed. \
Leicestershire Police says an alternative sub-culture is a visible group of people that are characterised by a strong sense of collective identify and group-specific values and tastes that typically centre on distinctive style or clothing, make-up, body art and music preferences. Mr Ablewhite, who attends heavy metal gigs and festivals such as Bloodstock and Download, and supports events including Whitby Goth Weekend, as well as The Sophie Festival, explained: "Last year I approached the hate crime officer for Leicestershire Police with a view to raising awareness around the alternative community in light of Sophie's anniversary.
"The idea for this campaign has always been focused on the message 'don't judge a book by its cover' and that serving officers and police staff classify themselves within this community.
"It also demonstrates that we as the police will recognise, assess and understand the impact that subculture hate crime has on its victims and the wider community and that we will provide necessary support and advice where needed.
"Identifying myself as being a part of this community, coupled with my roles within the police, means I feel strongly about raising awareness around alternative subculture hate crime reporting."
Mr Ablewhite said Leicestershire Police was the ninth force to add alternative subcultures as a category under hate crime in November 2015 and has since "been committed to ensuring that no one, including staff members, are targeted because of their appearance".
"There are currently five national hate crime categories, along with two additional categories, which include alternative subcultures," he added.
Together with Mr Ablewhite and PC Reeve, a digital media investigator at Leicestershire Police, the other officers supporting the campaign are partners Jacqueline and Paul Smith, who both work for Lincolnshire Police.
PC Smith, who is a response officer, said: "As I grew up, like most people, I was subjected to bullying because of my interests for music, or the way I dressed and my overall appearance, therefore this campaign is particularly close to my heart.
"I feel it is important to work against bullying and to encourage people to dress and portray themselves as they choose to do so, without fear of abuse."
Chief Superintendent Andy Lee, lead for hate crime at Leicestershire Police, said they were committed to tackling all kinds of hate incidents and hate crimes, adding: "Everyone has the right to live their life without being bullied, intimidated or pressured into being something they are not."
He is urging anyone being singled out because of the music they listen to, or the way they look or dress, to tell someone – a friend, a family member or report it to the police.
The number of hate crimes in England and Wales increased by 29 per cent in 2016/17, according to Home Office figures, up from 62,518 offences the previous year to 80,393 – the largest increase since the Home Office began recording figures in 2011/12.