Force gives councils a chance to 'empower local communities' by sponsoring a PCSO
An "innovative" scheme that allows local authorities or businesses to fund a Police Community Support Officer (PCSO) for their area was launched this week.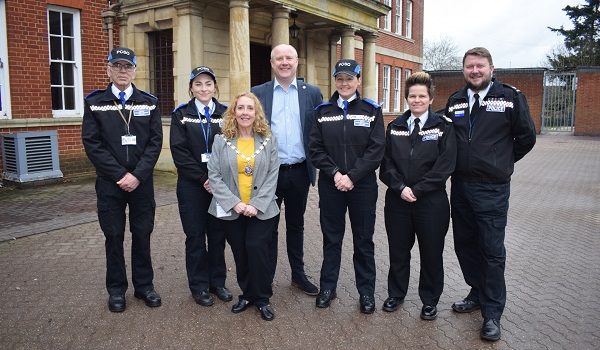 Daventry in Northamptonshire became the first town to benefit from the 'Sponsor a PCSO programme', which runs in 12-month cycles and will see up to 12 new officers operating across the county paid for by councils or business districts.
Sponsored by the town council, PCSO Mia Ball began her role this week under the direction of Daventry and South Northants Neighbourhood Policing Team, where she will provide a "visible and reassuring presence to the town".
Police and crime commissioner (PCC) Stephen Mold says the programme presents an alternative model that allows contribution towards enhanced policing at a time when other counties in England and Wales are reducing PCSO numbers.
Sponsored PCSOs will work within their local policing teams and remain directly accountable to the local policing sergeant, as opposed to other similar schemes in which the officer is integrated into a wider Neighbourhood Policing Team.
All training, uniform and equipment for the officer is paid for by Northamptonshire Police, while their sponsor covers their salary and on-costs, which totals £32,245 for 2018/19.
The scheme does not affect the service a community will receive from the core policing team, as the PCSOs are designed to enhance the work of the force in their specific area only. Only in exceptional circumstances, such as a major critical incident, will the PCSO will be deployed to other duties.
Head of local policing Superintendent Chris Hillery said: "PCSOs play a very important role within our policing model by working closely with their communities and local partners to identify and problem-solve local issues.
"We are very supportive of the Sponsor a PCSO programme which the OPCC has developed alongside the force because of its ability to enable greater partnership working that empowers local communities and supplements their core local policing team.
"I wish our new PCSO in Daventry the best of luck in their new role and I look forward to seeing more PCSOs sponsored by other local organisations across Northamptonshire."
Lynne Taylor, chair and mayor of Daventry, said: "We are very fortunate in Daventry to have a low level of crime; however, we are not without pockets of anti-social behaviour.
"I have every confidence that the appointment of a new PCSO will act as a deterrent, as well as an encouraging provision to the local community, making Daventry an even safer place to live and work."
Mr Mold said: "I'm proud that my office has developed this innovative scheme to help empower local communities to increase policing resources.
"At a time when other counties in England and Wales have decided to reduce the use of PCSOs due to budget challenges, in Northamptonshire we have presented an alternative model that allows communities to contribute towards enhanced policing.
"I have been delighted by the response to this scheme from partners which will allow us to put more police on the street of the county, and I know that given the valuable work that PCSOs do, this will undoubtedly lead to a safer Northamptonshire."