Force designs its own device to 'drive effectiveness and efficiency'
A new fingerprint scanner developed by the Metropolitan Police Service (MPS) is to be rolled out across the force to save both officer time and an estimated £200,000 in support costs a year.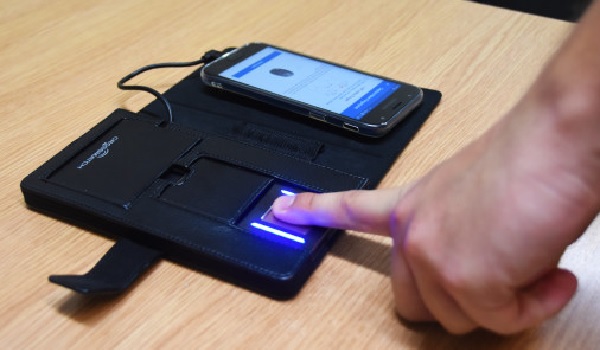 The mobile device – named INK Biometrics (Identity not known) – scans suspects' fingerprints and will confirm their identity within 60 seconds if they are known to police databases.  
The MPS is the first British force to develop its own portable scanner. Officers took the "innovative step" of developing their own product and software to increase the number of devices – fewer than 100 in recent years – at a much lower cost.  
Similar technology has been used by the MPS and other forces since 2012, but the new scanner is much cheaper, meaning 600 devices will be issued to frontline officers across the capital over the coming months.   
MPS Commissioner Cressida Dick said: "I have always been clear in my ambition to make the best possible use of technology to fight crime. The speed of analysis of information that this device will offer will drive effectiveness and efficiency and allow officers to spend more time in our communities and fighting crime.  
"This new technology was developed from the ground up with the full involvement of our officers and as we move forward we need more people like them, to join us with their tech-savvy, innovative thinking. I hope this shows potential officer recruits that policing is fully embracing the digital age and that they can be part of an exciting future."  
Fingerprints are usually taken where there is legal cause under the Police and Criminal Evidence Act, but the suspects are often taken back to a police station to have their identity checked.  
INK Biometrics removes that need, which means officers are kept on the streets for longer and limited custody space is freed up for offenders who do require detention. 
Comprising software designed by MPS staff, the portable devices are used on an Android smartphone handset paired with a Crossmatch fingerprint reader.  
When a fingerprint is scanned, it communicates securely to the Home Office developed Biometric Services Gateway, which searches the criminal records office and immigration enforcement databases for a match.  
If a suspect has a criminal record or is known to immigration enforcement their identity can be confirmed at the roadside.   
Officers can also use the device to check the Police National Computer to establish if a suspect is currently wanted for any outstanding offences.   
All fingerprints taken on the device are deleted automatically once the officer logs off the device.   
The INK Biometrics are designed to be simple to use and rechargeable in a police vehicle.  
Superintendent Adrian Hutchinson, who is leading the project, added: "Mobile identification technology helps officers to do their jobs efficiently and effectively. For example, if police stop a driver for a traffic violation but the driver has no documents on him and the car is registered to another person officers may not be happy that the name given is correct.  
"INK can allow them to confirm the identity to allow the service of a summons, rather than arrest them and take them to a police station where they then confirm their identity. Also, if the person is wanted for other offences, this device will allow us to establish this at the point they are stopped. 
"I am very proud we have become the first British police force to develop our own device. With the money we are saving, we are now able to provide more devices to more officers than ever before, saving them the time and inconvenience of either waiting for a biometric device to arrive or taking the suspect into custody."