Football-related arrests up by 60 per cent
Football-related arrests in England and Wales last season were at their highest level for eight years, according to Home Office figures.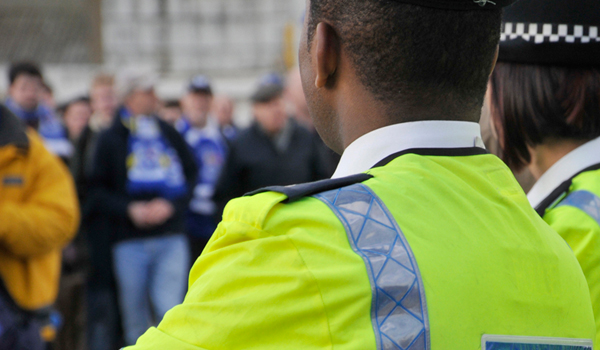 Arrests rose by nearly 60 per cent during the 2021/22 campaign compared with the last full season before the Covid-19 pandemic.
Latest figures published by the Home Office today (September 22) reveal that 2,198 arrests were made in the 2021/22 season, 59 per cent higher than in the 2018/19 season. This is the highest number of arrests made in a season since 2013/14, when 2,273 arrests were made.
The club with the highest number of supporters arrested in the 2021/22 season was West Ham United, with 95 arrests, 40 per cent for public disorder offences. Sixty-four per cent were made at home games. West Ham United also had the largest increase in arrests compared with the 2018 /19 season, up by 70.
There were an additional 140 football-related arrests made by British Transport Police, with public disorder the most common offence type (45 per cent/63 arrests).
The Home Office says the increase in arrests comes as police "intensify their crackdown on football disorder to ensure fans and families can enjoy games in safety".
In addition, there were 1,308 people with Football Banning Orders (FBOs) at the end of the 2021/22 season, including 516 new orders issued, preventing those individuals from attending games, including the World Cup in Qatar. Birmingham City supporters had the highest number of football banning orders in force (57), in the 2021/22 season, .
Incidents were reported at 1,609 football matches last season (53 per cent of matches). The most reported offences were illegal use of pyrotechnics (729 matches where incidents were reported), throwing missiles (561) and public order or anti-social behaviour incidents involving youth supporters (444).
In addition, published for the first time, statistics show that police investigated 74 incidents of online hate crime related to football last season.
Following an amendment to the Police, Crime, Sentencing and Courts Act 2022, people convicted of relevant online hate offences committed after June 29 can now also be made subject to FBOs.
National Police Chiefs' Council lead for football policing, Chief Constable Mark Roberts said: "Disorder is a problem that has not gone away, and throughout the whole of last season we saw an increase in crime at football matches across the country – from the Premier League right down to the National League.
"Following constructive talks with the Premier League, EFL and FA we are keen to support our partners in delivering their proposals – which include the introduction of stadium bans for people who enter the pitch, as well as those who use pyrotechnics.
"We are also pleased that the Government is adding Class A drugs offences to the banning order legislation. This will provide police with another option to tackle criminal and anti-social behaviour by those who are under the influence of drugs.
"Anyone who commits a criminal offence either outside or inside a football ground can expect to face the consequences of their actions. The increase in arrests demonstrates that the police are taking positive action, working closely with the Crown Prosecution Service (CPS).
"We collectively need to make football a safe environment for the overwhelming majority of supporters who just want to enjoy the game."
The Government says it has "responded firmly" to concerning reports of a rise in disorder, pitch invasions and abuse of players and staff at football matches.
Over the past year the Home Office has extended FBOs to cover online hate crime for offences connected to football, committed to adding Class A drugs crimes to the list of offences for which a FBO can be imposed on conviction and ensured the women's domestic game is covered by the FBO regime, showing that violence and hate will not be tolerated.
Minister for the Home Office Jeremy Quin said: "Our football clubs are at the heart of our communities, and it is unacceptable that the game we all love is tarnished by a minority of selfish troublemakers.
"The increase in football-related arrests shows that police are taking firm action to stop this disorder and preserve the enjoyment of the game for fans and families which I wholeheartedly support."
The Home Office said FBOs are "a preventative behavioural order designed to prevent violence, disorder and harm" and are imposed by a court, following an application or on conviction for a football-related offence. This may include pitch invasions, use of pyrotechnics and online abuse, and can ban people from attending regulated football matches for up to five years, and up to ten years if a custodial sentence is imposed, it added.
The Football Banning Orders Authority can require those with a ban to report to local police and surrender their passport during the control period before and during overseas regulated matches and tournaments.
Deputy Chief Crown Prosecutor for West Midlands and CPS Sports Lead Prosecutor, Douglas Mackay said: "Over the past football season, we have seen a significant rise in football-related criminality compared to pre-pandemic levels. At the CPS, we play a crucial role in tackling these crimes and making our national game inclusive, and safe to watch and play in. There is no place for violent and hateful criminal acts in football, and incidents such as these have a significant negative impact on victims.
"The CPS is currently working with the police, football clubs, football bodies and charities to seek to stamp out this blight on football."
The 2021/22 football season was the first full season where all scheduled matches in England and Wales were played at full spectator capacity following the Covid-19 pandemic (3,019 matches).
In the previous season (2020/21), 93 per cent of matches were played without spectators and seven per cent were played at various reduced capacities. None were played at full capacity.
"The 2019/20 season was also impacted by Covid-19 from March 2020 onwards, with 11 per cent of fixtures cancelled. As such, season-on-season comparisons are made with the 2020/21 season and also the 2018/19 season (pre-Covid-19) to provide a more meaningful measure of change over time," said the Home Office.
From the start of Season 2022/23, all offenders will be reported by clubs to the police and prosecution could result in a permanent criminal record, which may affect their employment and education, and could result in a prison sentence, added the Home Office.