Flint House Police Rehabilitation Centre announces new ambassadors
Seven police officers and a wellbeing dog have become the first Flint House ambassadors, sharing their experiences of how the charity has helped them mentally and physically.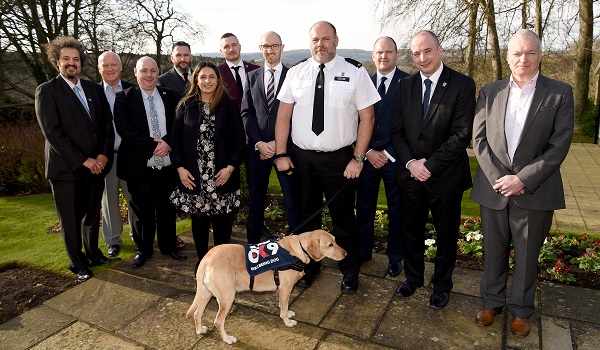 The new ambassadors are Cambridgeshire Police Constable Paul Roe, Metropolitan Police Service (MPS) officer James Sarson, Bedfordshire PC Ben Gates; and four other MPS officers who form the fundraising group known as Compass Points 2017 – Darren Laurie, Darren Sanders, Mick Gibson and Keith Malda.
Speaking at a ceremony last Friday (January 28), Flint House CEO Sophia Majaya said: "Our ambassadors have all been so open in sharing their experiences, which is so powerful because officers can relate to them.
"They've gone out of their way to share often quite difficult experiences, and we really appreciate that they're putting themselves out there in the media, which is a brave thing to do as a police officer. It helps other people understand what we do, and to hear it firsthand from officers who have experienced it."
PC Roe was at the ceremony with his Labrador Holly, who is a College of Policing-accredited wellbeing dog. He has attended Flint House several times himself, receiving physio for a dislocated ankle and also for a wellbeing break.
He said: "When I got injured recently, it triggered trauma I'd been through over 20 years – inclu
ding being assaulted and attending four train crashes. I was diagnosed with PTSD and at that point my dog Holly changed and started to look after me – she knew I wasn't right.
"I don't know where I'd be today if it wasn't for Holly. She is a perfect wellbeing dog, she really helps people with trauma. People can talk about difficult things when they're playing with a dog.
"I'm honoured to accept the ambassador role and tell people about Flint House – it's an amazing place, second to none."
James Sarson was helped by Flint House on three separate occasions following a serious car crash and he now gives motivational speeches to other officers about how he manages his physical and mental health. PC Gates was also involved in a horrific car crash and was helped by the physiotherapists and mental health team at Flint House.
The four Met officers who make up 'Compass Points 2017' were all responders to the 2017 London terrorist attacks. They have raised money for Flint House in a series of ambitious runs and walks, and have more events planned for 2022.
One of the group, Darren Laurie, said: "We've all benefited from Flint House ourselves or know people who have been there. I was in a motorbike crash and my injury would have been so much worse without Flint House.
"We want to pay them back a little bit and do something positive to try to help other people. Younger officers might not be aware of what Flint House does – and they may not realise what being injured can do to you, especially when you're used to being active."
His colleague and fellow ambassador Mick Gibson agreed, saying: "Officers have to acknowledge that policing takes its toll, and Flint House gives them the best opportunity to recover from physical or mental injury, short term or long term."
Flint House's Marketing Manager Aspen Wetherburn said she wanted to thank the officers for being advocates for the charity. "There's no more powerful conversation than police officer to police officer. They're telling new recruits that one day they might need Flint House and even if they don't need it, their colleagues will.
"What makes Flint House different is that there's a genuine understanding and respect for officers. We offer world-class treatment, but also officers feel safe here."
She added that Flint House plans to invite more officers from different forces to be ambassadors in the future.