Five per cent pay award 'not good news for all officers'
Police officers are to receive an overall five per cent pay rise, with officers of all ranks in England and Wales receiving an extra £1,900 from September.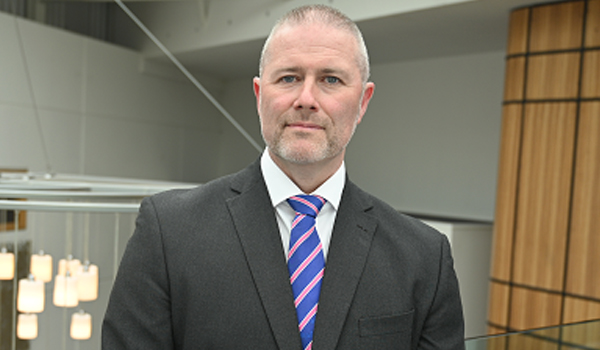 Although many welcomed the news, others raised concerns that the strategy negatively impacts those in higher ranks with the Police Federation of England and Wales (PFEW) saying it was "not good news for all officers".
The Home Office said it accepted recommendations from the independent police pay review body in full, adding that the money is "targeted at those on the lowest pay points to provide them with an uplift of up to 8.8 per cent, and between 0.6 per cent and 1.8 per cent for those on the highest pay points".
The police constable degree apprentice minimum starting salary will also be raised to £23,556. London weighting and the dog handlers' allowance will also see a five per cent increase.
Home Secretary Priti Patel said: "It is right that we recognise the extraordinary work of our officers who day in, day out, work tirelessly to keep our streets, communities and country safe."
A statement issued by the Home Office said: "Pay awards this year strike a careful balance between recognising the vital importance of public sector workers, whilst delivering value for the taxpayer, not increasing the country's debt further, and being careful not to drive even higher prices in the future.
"Most overall pay awards in the public sector are similar to those in the private sector. The median private sector pay settlement, which is the metric most comparable to these Pay Review Body decisions, was four per cent in the three months to May. Median full-time salaries are higher in the public sector, and public sector workers benefit from some of the most generous pensions available."
The PFEW said the award was positive news for those young in service and new joiners but more disappointing for those longer in service and in supervisory ranks who are also struggling financially.
National chair Steve Hartshorn said the award was a 'small first step' in repairing relationships between ministers and officers. "After our persistent appeals, the Government are finally starting to listen to the huge concerns we have over low police pay. Officers have already faced two years of a blanket pay freeze, a 20 per cent real terms pay cut since 2010, and now huge additional cost-of-living pressures. The average five per cent settlement announced today is still below inflation, and the PFEW believes the Government 'still has a long way to go' to demonstrate they're treating officers with the dignity and respect they deserve, this is only a small first step forward in regaining their trust.
"It is disappointing that the pay increase is not good news for all officers, negatively affecting those in higher ranks. It's in the Government's direct interest to ensure that all police officers are paid properly and can pay their bills. If they don't, retaining the high-quality officers our country needs – and this Government promised – will be doomed to fail. PFEW has and will continue to work for better work conditions for all our members."
PFEW national secretary Calum Macleod said that the pay rise was long overdue: "During and after the pandemic police officers across the country pulled in every resource to keep our communities safe though they were subjected to a pay freeze. The Government accepting all the recommendations of the Police Remuneration Review Body (PRRB), as PFEW has called for repeatedly, is a positive step in the right direction, however, PFEW will continue to fight for a fully independent review body that offers consistent and considered pay awards going forward. It is right that the findings of the PRRB are accepted in full, unimpeded by government.
"The pay rise offered for 2022/23 is understandable in the current climate, though we were hoping that it would be in line with the current rate of inflation. We will continue to lobby the Government and campaign in every way we can to ensure the fair pay and wellbeing of police officers.
"We want all workers across the public sector to get the pay rise they deserve, but police officers face unique dangers, being asked to put their lives in danger daily to protect our communities, it's important that this is reflected in an ongoing way."
Ken Marsh, chair of the Metropolitan Police Federation, said: "This is nothing more than yet another derisory pay offer to hard working police officers. With inflation currently running at more than nine per cent – and our pay being behind inflation by more than 20 per cent over the past decade – how can it be anything other than another kick in the teeth to our courageous colleagues?
"Every day, police officers across London go out there putting their lives on the line to keep people safe and we are constantly treated in a despicable manner when it comes to our pay and conditions by politicians in power. Why are we treated like this? Why do we have no choice but to accept such an offer? Because the Government know we cannot take industrial action. And they are callously and calculatedly taking advantage of this. The police officers I represent have had enough of being betrayed like this. What a sorry state of affairs."
The Chief Police Officers' Staff Association (CPOSA) and the Police Superintendents' Association said the pay award "fails to fairly reward or recognise those tasked with serving and protecting our communities," adding: "This is the first time we have seen a targeted pay award – something that is incredibly divisive and creates both inequality and a lack of fairness across a service based on a rank structure.
"There is no long-term strategy behind this approach, which ignores the rank structure of police officer pay, and disadvantages those with the highest levels of responsibility."
However, National Police Chiefs' Council chair Martin Hewitt welcomed the news. He said: "This pay award will help police officers to keep pace with cost of living increases, particularly those who have recently joined policing. The pay award was recommended by an independent body and will assist in recruiting and retaining police officers.
"Both the Home Office and individual forces face financial challenges in accommodating the cost of this pay award. As such, we welcome the additional funding from government and the commitment to additional funds for the next two years until the next Spending Review."
Association of Police and Crime Commissioners chair Marc Jones said: "Police officers work tirelessly to protect the public and police and crime commissioners (PCCs) are pleased that today's pay award rightly recognises some of the challenges they are facing because of increases to the cost of living.
"We are also pleased that the Government has accepted the independent PRRB's recommendations.
"In terms of affordability, we welcome the fact that the Home Office have reacted to our concerns about funding the settlement and have agreed to fund half of the additional increase.
"This goes beyond what was already anticipated from the Spending Review last autumn for the current year and represents closer to 60 per cent of funding in years two and three of the current Spending Review period.
"PCCs will continue to work with police chiefs and the Home Office to ensure that policing is resourced appropriately now and in the years ahead.