First force has maximum tax funding proposal rejected
North Yorkshire's police and crime commissioner (PCC) has had her proposed increase for the police precept rejected due to a lack of detail and explanation.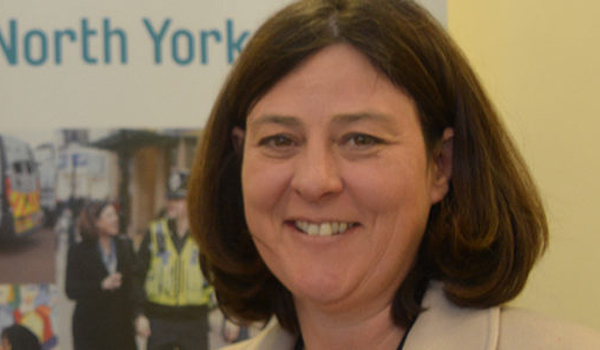 Members of the area's police, fire and crime panel said they were "especially disappointed" that they had been given new information on the day of the meeting.  
The panel said that it consequently had "little time to take on board the issues and hold the commissioner to account".  
At the meeting on Tuesday (February 5) the panel concluded that it needed more detail to arrive at a "balanced decision", particularly on how the extra money would be spent in respect of local policing.  
In a statement issued on Wednesday (February 6) PCC Julia Mulligan expressed her disappointment but said her proposal plans were "crystal clear about boosting visible policing".   
Councillor Carl Les, chair of the panel, said rejecting the PCC's proposal was not a decision taken lightly and it understood the public's need to have a more visible policing presence, but "an increase of more than ten per cent was simply too much to ask people to pay without further information about how aspects of local policing will be improved".   
Ms Mulligan had asked for a 10.3 per cent average council tax rise, meaning the tax burden would rise by £23.95 for a Band D property, the maximum allowed.  
The extra money was to be spent on recruiting at least 50 new officers, 20 police community support officers (PCSOs) and new public safety officers.  
Ms Mulligan wrote on Twitter following the decision: "Today I put forward proposals for a new City Task Force, plans to reinstate officer numbers to 2010 levels, and the highest number of PCSOs ever. It is a great shame this was vetoed – we need more officers in our local communities."  
Deputy Chief Constable Phil Cain also tweeted: "Today I attended the police and crime panel to present our case for investing precept rise funding. Disappointed with myself that we didn't get the support of the panel because my team worked so hard to put together a proposal which we all believe in. Sorry team."  
The panel provisionally scheduled February 21 as the date to consider a revised precept proposal.  
It is the first such proposal to be rejected this year.  
But the panel did accept Ms Mulligan's proposed increase for the fire and rescue service – a rise of £2.07 (2.98 per cent) for a Band D property.   
The Government set a maximum increase cap of £24 this year, which most PCCs have asked for, due to the huge pressure of long-term budget cuts on officer numbers, with PCC consultation surveys across forces showing a widespread desire for more officers on the frontline.  
All the other maximum cap proposals already put before panels nationally have been accepted.  
Ms Mulligan said: "While I am pleased the police, fire and crime panel accepted my proposals for North Yorkshire Fire and Rescue Service, I am naturally disappointed that they have chosen to veto the proposals for the North Yorkshire Police precept.   
"I have been clear that the proposed increase was a difficult decision, not arrived at lightly, and a huge amount of work by my team and the chief constable's team has gone into the proposal, especially given the short timescales we are given to work to.    
"My proposals were crystal clear about boosting visible policing by an additional 50 police officers and 20 PCSOs, bringing North Yorkshire Police almost back to 2010 levels of resources. Those new resources would then be split between additional officers and PCSOs for local and visible policing teams across the county to tackle offences like burglaries and anti-social behaviour, a new 'city task force' for York, more work on mental health and brand new teams focusing on prevention and early intervention.    
"It is disappointing that this was not enough to convince the panel that my proposals were the right thing for our communities. I, however, remain convinced that these proposals are the right ones to ensure North Yorkshire residents and businesses are safe and feel safe."