First 'bespoke' drone launched by Gwent Police 
Following an eight-month trial, Gwent Police has launched what it says is the "first bespoke police drone in Wales, if not the UK".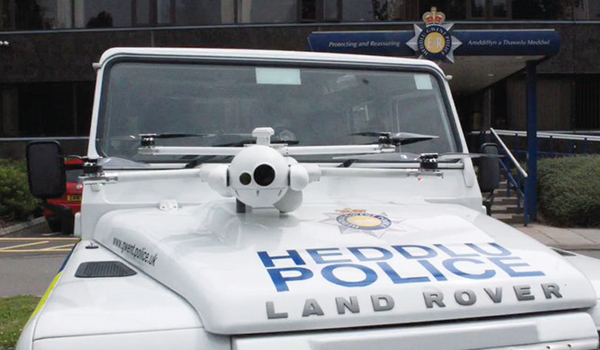 The force has been working with drone manufacturers to build and test the 'Sky Mantis', which has a range of capabilities to allow for use in a variety of situations. These include searches for high-risk missing people, policing large-scale events and disorder, crime scene photography, including drug warrants and serious road traffic collisions, as well as keeping the public and frontline officers safe. 
Inspector Gavin Clifton said: "Across the trial, the drones have proved their worth, saving the force approximately £46,800 across 36 incidents, and have also been used in place of helicopters in the appropriate places. 
"We have been working closely with drone manufacturers to create a tailored model which meets all our policing needs and ensures that it can be deployed in all conditions around the force area." 
Gwent Police Chief Constable Julian Williams added: "I'm really pleased that we now have 25 specially trained and qualified officers who give us 24/7 coverage with the drones. Using drones helps us to use our resources in the right place at the right time and help resolve incidents quickly." 
Gwent's police and crime commissioner Jeff Cuthbert said drones were increasingly important tools for modern policing. 
"They are cost-effective, efficient and reduce the risk to officers," he added. "They can be used in a variety of roles, from missing person searches to scene photography, and are particularly useful for helping the police to tackle crimes in our more rural communities." 
Gwent Police now has four drones in operation, including two of the new bespoke Sky Mantis.