'Fight continues on behalf of all service animals' as Finn's Law delayed
Extra protections for police animals have been put on hold after the Government raised an objection.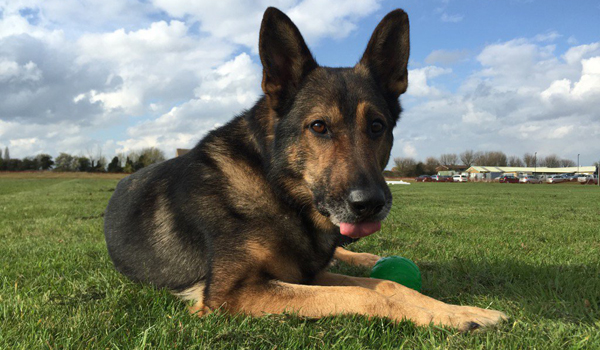 The Service Animals (Offences) Bill was due to be debated in Parliament last Friday (February 23) but has been postponed until next month as Ministers doubt the need for extra legislation.
The proposed Bill was inspired by retired police dog Finn, who needed life-saving surgery after saving his handler from a knife-wielding suspect.
North East Hertfordshire MP Sir Oliver Heald, who took the law on as a Private Member's Bill, has vowed to continue the "battle" for Finn's Law when it returns to Parliament on March 16.
A spokesperson for the 'Finn for Change' campaign said: "We are disappointed and dismayed with the objection.
"The Ministry of Justice do not share our contention that there is a clear and obvious gap in current legislation which needs addressing with Finn's Law.
"Our fight continues on behalf of all service animals."
Finn and handler Police Constable Dave Wardell both required hospital treatment after being attacked in Stevenage in 2016.
The incident sparked the Finn's Law campaign, with more than 120,000 backing increased protections for police animals.
Current laws mean attacks on service animals can only be charged with causing unnecessary suffering or criminal damage.
Campaigners object to this approach as it classes service animals as property.
The Service Animals (Offences) Bill would introduce a new offence of attacking animals such as police dogs and horses, and would broaden sentencing powers when service animals are injured.
Last week's debate would have been the second time the proposed legislation was brought before MPs.
The Government objected to the Bill on the grounds that current laws are already sufficient to protect service animals.
Sir Oliver said he was "disappointed but determined" at the result.
Nottinghamshire police and crime commissioner Paddy Tipping urged the Government to get behind the proposed Bill.
In a letter to the Home Secretary, he wrote: "Attacking a service animal which is there to protect and uphold public order is a serious demonstration of violence and should be regarded as such.
"Such behaviour should be viewed with the same contempt as if a police officer was injured since both are executing public duties.
"Current legislation does not satisfactorily protect our hardworking police dogs and horses and other service animals, without which many aspects of policing such as drug detection and searching for missing people or suspects would be far more challenging."