Fifteen MPS officers injured tackling illegal street party in South London
At least fifteen Metropolitan Police Service (MPS) officers have been left injured and a number of police vehicles damaged following "significant disorder" during an illegal street party in Brixton, South London, last night (June 24).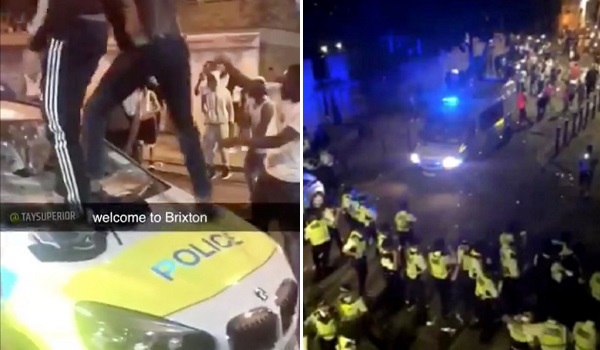 Officers were called to the event in Cecilia Road after multiple reports of a large, unlicensed music event taking place in the street.
A statement issued by the MPS said officers attempted to encourage the crowd to leave the location but they failed to engage with the police. "The event continued and more officers attended the scene and the group became hostile towards officers," it added.
"In total, 15 officers were injured, none seriously, although two did require hospital treatment. A small number of police vehicles were damaged. Four arrests were made for assault and public order offences. They remain in police custody."
Footage shared on social media shows a fight breaking out during the event in which one man appears to be stabbed. Another clip shows a man climbing on top of a police car and smashing the windscreen using a table leg.
The MPS said a Dispersal Zone was authorised under section 35 of the Anti-Social Behaviour Crime and Policing Act 2014 to encourage crowds to leave and the event was eventually cleared in the early hours of this morning. A section 60 was later implemented in the vicinity of the event to prevent violence.
Condemning the violence the Home Secretary Priti Patel said: "These are utterly vile scenes. Just last weekend, the whole country came together to praise our heroic police officers for putting their own lives on the line to keep us safe. I'll be picking up with the Met Commissioner immediately."
Borough Commander Colin Wingrove said: "Our role is to protect the public and ensure guidelines are adhered to in order to prevent the spread of Covid-19 protecting the NHS and save lives
"Our officers work incredibly hard to engage and explain the public health message and regulations to prevent such gatherings occurring.
"Last night we received numerous concerns from residents complaining about a large gathering, noise, anti-social behaviour and violence and officers responded to those concerns. These gatherings are unlawful, as well as posing a risk to public health and against coronavirus restrictions.
"The violence shown towards officers is totally unacceptable and we will not tolerate it in any form. An investigation into the incident is now taking place and those involved will be brought to justice."
Ken Marsh, chair of the Metropolitan Police Federation, said his colleagues had faced "an absolute volley of anger and hatred towards the police" and that the number of injured officers was significantly higher with at least 30 being wounded during the incident.
He added: "This violence is despicable. Yet again our brave colleagues in London have come under attack. My colleagues are human beings as well – and suddenly in scenes like last night they're confronted by people who ultimately want to cause them grievous damage. You can't prepare for that. It's deplorable. We emphasise again that police officers are not punchbags. Colleagues should be going home to their families at the end of their shifts and not to hospital.
"My colleagues are faced with all sorts of trauma from these incidents. We wish all injured officers well and a swift recovery."
Mr Marsh also expressed concerns about further large gatherings as lockdown is eased – and pubs reopen – on July 4. He said: "It's very concerning for us because the weather is warm and people have been unable to gather for a long, long time. My concerns are obviously as we move towards July 4, how the public are going to respond to that, because ultimately it always seems to fall on the police's shoulders to deal with everything.
"I would say to everybody, there is no place in society for disorder and wanting to cause violence and pain and grief towards public and police alike."
The national chair of the Police Federation of England and Wales told BBC News that the disorder in Brixton was an "absolute disgrace".
John Apter said: "We've seen about 250 police officers injured in recent weeks; that's just an unimaginable number. The scale of the disorder in Brixton and the targeting of my colleagues is an absolute disgrace.
"We're reaching the point where it's only through fortune that my colleagues are not being more seriously injured or in fact killed."
He added that police officers were in an "impossible" position; criticised if they police too soft or go in too hard. And he called for those responsible to face the consequences.
"We need to put these people in prison where they belong because this is not acceptable at any level," Mr Apter said.