Federation hits out at 'damaging, anti-police' story on criminal convictions
The national chair of the Police Federation of England and Wales has described media reports of the number of police officers with criminal convictions as "sloppy journalism" with the potential to damage the relationship between officers and the communities they serve.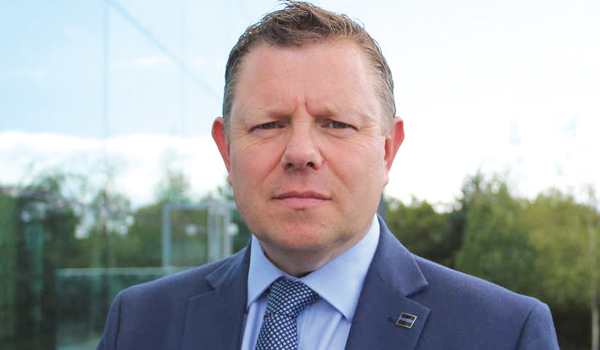 John Apter took to social media to voice his frustration after a Sky News investigation revealed that at least 211 officers and police community support officers (PCSOs) in the UK have criminal convictions.
The figures were obtained through a Freedom of Information request, but only one third of the forces were able to provide the necessary information.
The Police Service of Northern Ireland (PSNI) said 99 serving officers had received criminal convictions while employed by the force. The offences included death by careless driving, common assault, harassment and possession of a firearm/drunk in charge of a firearm.
North Wales Police said 20 police officers and five PCSOs have criminal convictions, including a sergeant convicted of assault, two officers guilty of drug possession and two officers convicted of cruelty to animals.
Kent Police said 22 serving officers have been convicted of crimes, including five officers ranked "inspector or above". The offences included common assault, criminal damage and drink driving.
Fourteen Avon and Somerset Constabulary officers have convictions for crimes such as assault, burglary, theft and obtaining money by deception.
Seven Dorset Police officers have criminal convictions, including a constable convicted of burglary and ABH (actual bodily harm), and a constable guilty of causing unnecessary cruelty to a protected animal.
Devon and Cornwall Police said nine serving police constables have convictions for crimes including drink driving and Data Protection Act offences.
Norfolk Constabulary said three officers have criminal convictions including a constable guilty of battery and another constable convicted of possessing an imitation firearm in a public place.
Cheshire Police said 18 serving police officers or PCSOs have been convicted of crimes but did not provide any further details.
Even when the figures are extrapolated to take account of the forces that did not provide information, they amount to less than one per cent of all officers in the UK.
Writing on Twitter, Mr Apter said: "A regurgitated anti-police story from Sky News which appears to just want to undermine policing. We have 130,000 officers and PCSOs, this is a tiny percentage. The continuous vilification of policing and of my colleagues is seriously damaging."
He added: "Having a criminal conviction is not an automatic bar from being an officer but it will depend on the circumstances. Every case is scrutinised, that's why there are so few.
"There are so many factors, not as simple as the headline. Very sloppy journalism."
Chief Constable Craig Guildford, the National Police Chiefs' Council lead for professional standards, told Sky News: "Applicants must declare their convictions and every case is assessed and considered by vetting departments using national guidance.
"We review what someone was convicted of, the sentence they received, how old they were at the time, what the circumstances were and how long ago it was. We also re-vet officers throughout their service and have higher levels of vetting for particular posts.
"Society rightly expects the police service to act with honesty and integrity and any instance of conduct falling below that standard, or when a crime has been committed, will be dealt with directly based upon the evidence presented as nobody is above the law."
With this latest report from Sky just one of many fuelling negative perceptions of the police service, Mr Apter is urging for more support from the media as he warns of the detrimental effect on officers, the public and potentially the Government's recruitment drive.
He said: "It is absolutely right that policing is transparent and accountable to the public; and that we continually look to see if we can do things even better by listening to the communities we serve – but the continuous vilification of policing and my colleagues in the media is seriously damaging.
"Policing is going through a tough time right now and these continuous attacks are chipping away at the morale of our members who are doing their best during this trying period. These anti-police reports also risk eroding public confidence in the service at a time where forces are trying to recruit more officers. This biased reporting risks damaging the recruitment drive."
Mr Apter continued: "In the current climate where it is fair game to attack policing I would not be surprised if officers conduct less stop and searches out of fear of being publicly berated. They are damned whatever they do. Policing in the UK may not be perfect, but it is not as bad as is currently being portrayed."