Federation calls on the Government to reverse pay freeze decision
The Police Federation of England and Wales (PFEW) has called on the Government to reverse its decision to implement a pay freeze on police officers and instead award them a "meaningful" increase.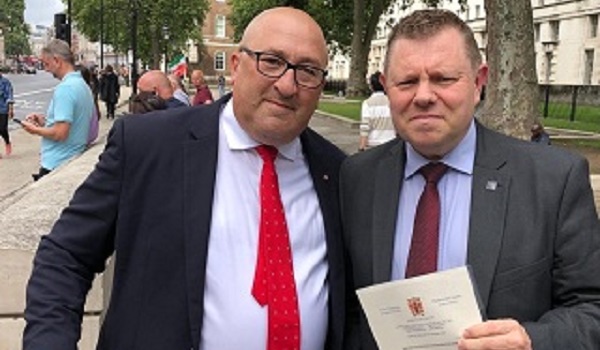 National chair John Apter, accompanied by Ken Marsh, chair of the Metropolitan Police Federation, handed an open letter to Downing Street on Tuesday (July 27) detailing his organisation's demands over pay and how its members felt "that they are taken for granted".
Mr Apter said: "Warm words don't pay the mortgage. We've got officers who are going to food banks… officers who are having to go to charities for help to pay their bills, that is just not acceptable.
"So we're in a position now where the Government really needs to do what's right for police officers, especially around pay. And this isn't about us saying police officers want a five, ten, whatever, per cent pay increase, it's about just treat them fairly.
"Why should firefighters and local government workers and colleagues from the NHS, as right and proper as that is, get a pay rise but our colleagues don't?
"Despite what is expected of them and despite the dangers they face, the vilification they face, being coughed at, stabbed, spat at… during this pandemic police officers have absolutely stood up.
We talk about we protect the public, but who protects and supports our colleagues? That's what we need from this Government, more than warm words."
Mr Marsh added: "We can't keep going on like this… this is the beginning of a campaign where we should be getting across to the public how poorly we're treated. We're not asking for anything over and above. We're asking for fairness and it appears this Government aren't listening to us because they feel they don't have to."
"There's a lot of anger. Officers are demoralised. They feel let down. We've got to the point… that they want something done."
The letter handed in by the pair states: "This is about much more than money, though for many the offer of a zero per cent pay rise, after all the police has been through in helping deal with the pandemic, was the final straw.
"It is about the risks you asked us to take – which we did, because it is our duty – without proper PPE. It is about the endlessly changing and confusing Covid legislation which we were expected to police – which we did, because it is our duty. It is about your mixed messaging and lack of understanding of our role, which combined to put many of our members in invidious positions which led to them being abused and attacked.
"It is about the failure, despite the promises of the Home Secretary, to take seriously our request that police officers should be given early priority for vaccination. It is about the very strong feeling we have, not least when the Prime Minister and Home Secretary spoke at our Annual Conference, that the warm words flow easily, but the actions that show genuine support for the police do not."
A statement issued by PFEW said it was calling for a complete reset of the relationship between government and the police and made three requests:
Stop taking police officers for granted and treat them with respect;
Agree to work with us on an entirely new and fairer system of remuneration decision-making; and
Reverse the zero percent pay award decision and give our police officers a meaningful pay increase.
The Government has defended the decision not to offer an across-the-board pay rise to police officers because of economic "difficulties" caused by the coronavirus pandemic.
Policing minister Kit Malthouse pledged that the Government would do "other things" to make police officers feel "valued and supported".
You can read the full letter here.