Federation calls for a blanket ban on protests during the pandemic
The Police Federation of England and Wales (PFEW) has called for all large gatherings and protests to be banned to prevent officers being placed at risk of contracting coronavirus.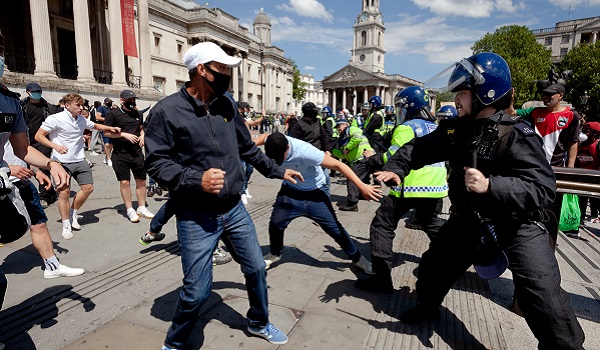 The call came following a second weekend of nationwide Black Lives Matter protests linked to the death of George Floyd and two illegal raves in Manchester attended by more than 6,000 revellers during which one man died of a suspected overdose, one woman was raped and three separate stabbings took place.
PFEW national chair John Apter said: "In normal times the principle of having the right to peaceful protests is an important one. However, we are not in normal times, we are tackling a deadly virus which is indiscriminate in who it can affect.
"Police officers have provided outstanding professionalism in their dealings with large gatherings during Covid-19 – some of which turned violent at the weekend. But we can't ignore the avoidable risk our members and to those attending the protests are being exposed to. I urge the Home Secretary to be unequivocal in her terms that whilst we are under the threat of this virus, any large gathering or protest must be banned.
"We cannot allow our police officers and members of the public to be put at risk of contracting the virus, especially at such a critical time in our response to the pandemic."
In London, a total of 113 arrests were made for a range of offences including breach of the peace, violent disorder, assault on officers, possession of an offensive weapon, possession of class A drugs and being drunk and disorderly.
The arrests included 28-year-old Andrew Banks of Stansted, Essex, who has been charged with outraging public decency after a man was photographed apparently urinating near the memorial dedicated to Police Constable Keith Palmer. He is due to appear in custody at Westminster Magistrates' Court today (June 15).
A total of 23 officers were injured as protesters threw items at police or targeted them with violence.
Metropolitan Police Service Commander Bas Javid, said: "The scenes officers encountered across central London yesterday were utterly shocking. Once again, they were pelted with missiles, or challenged by groups of men intent on violence.
"Mindless hooliganism such as this is totally unacceptable and I am pleased arrests were made. We will now work closely with the courts in pursuit of justice."
Greater Manchester Police Assistant Chief Constable Chris Sykes said that attempting to police the illegal raves had exposed his officers to a higher risk of contracting the virus. "We hope the public can recognise the challenges we are facing at the moment and our communities join together in doing the right thing by following the government guidelines. Coronavirus is still a threat and we will continue to engage with people to encourage them to take some personal responsibility and do the right thing," he said.
"Sadly, officers attempting to engage with participants of this gathering were met with violence, resulting in items being thrown and a police car being vandalised. I want to make it clear that this is absolutely not acceptable and will not be tolerated. Our officers are working incredibly hard to keep people safe and should never be met with inexcusable violence whilst carrying out their duties."