Eye-catching support for Essex Police fund-raising drive
Essex Police has had a charity 'elephant' decked out in eye-catching police livery to help raise money for local hospices.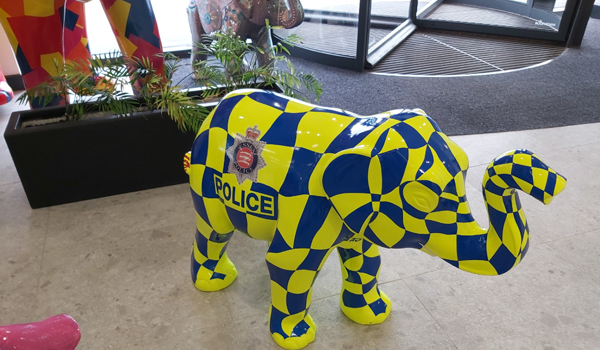 The force is joining other 'sculpture sponsors' of this year's Herd in the City event, an art trail that will see more than 40 large elephant sculptures dotted around the Southend-on-Sea area.
Essex Police will auction the elephant at the end of the event and donate the funds raised to the Havens Hospices in Southend.
Havens Hospices provide palliative nursing and supportive care to adults and children living with complex or life-limiting conditions across Essex.
Working with Wild in Art, the charity will deliver the free public art trail and cultural event throughout Southend-on-Sea.
Vehicle livery provider Bluelite Graphics was asked to apply the livery to the Essex Police 'elephant' on behalf of the force's fund-raising initiative and wrapped the sculpture in high-conspicuity materials .
Bluelite's managing director Lorraine Avery said: "This was a very unusual, but enjoyable project for us and definitely tested the skills of our specialist livery applicators.
"We are always delighted to help where we can with any projects which support such a worthwhile cause."