Extra funding for 'invaluable' rape victim support service
A "life-changing" support service for rape victims will be extended after being provided with an extra £1.7 million.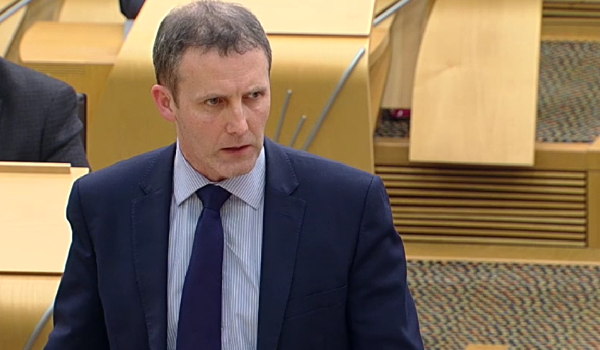 Scottish Justice Secretary Michael Matheson announced extra funding for the National Advocacy Programme (NAP), set up in 2016 to help rape victims cope with their journey through the courts.
The money will help the Rape Crisis Scotland-led project hire additional staff, allowing it to provide even more support over the next two years.
The allocation follows the conviction rate for rape and attempted rape in Scotland falling to the lowest level for eight years.
Sandy Brindley, co-ordinator of Rape Crisis Scotland, said the NAP has provided "life-changing" support.
"Reporting a sexual offence and going through the resulting justice process can be difficult, and it's crucial that people have dedicated support in place to assist them throughout this process," she added.
"We are delighted that we will be able to expand the project, to allow us to more fully meet the needs of people through Scotland who have experienced rape or sexual assault."
The extra funding for the NAP follows an evaluation of the project by the Scottish Centre for Crime and Justice Research, which found it provided victims with "invaluable" support.
Researchers heard the project had helped victims turn their lives around and helped give them a sense of control and confidence over the criminal justice process.
Recent government figures revealed 39 per cent of people tried for rape or attempted rape in Scotland were found guilty in 2016/17, down from 49 per cent the previous year.
Just 98 people were successfully convicted while 1,878 offences were reported to Police Scotland.
The conviction rate is the lowest since the 37 per cent recorded in 2008/09, while the number of court proceedings rose by 16 per cent.
The Scottish government has provided £20 million for 2015-18 to tackle violence against women and girls.
The new £1.7 million, spread over 2018-20, will increase available funding to £861,000 for the next two years, up from £560,000.
Mr Matheson said: "Despite an increase in the number of people coming forward in recent years, we recognise that crimes such as rape and domestic abuse continue to be under-reported when compared to other types of crime and that an efficient, victim-centred legal process is an essential part of ensuring necessary support for victims.
"Advocacy services have a key role in helping victims to come forward and engage with the legal process and through this additional investment we can strengthen the support available to victims of sexual crime and help secure confidence in the justice system."