Extra 1,420 police join forces across England and Wales in three months
More than 1,400 new officers have joined forces across England and Wales in the past three months under the Government's police uplift programme.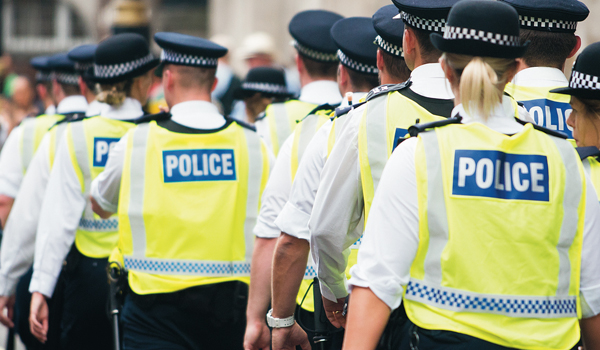 Figures released by the Home Office on Wednesday (January 25) show that more than 16,700 additional officers have now joined the police in its drive to recruit 20,000 extra police officers by March 2023.
The latest figure of 1,420 extra officers mean the Government has met 84 per cent of that target.
The figures also show the number of police officers from an ethnic minority background is at an all-time high.
"While there is more to do to ensure policing is representative of the communities it serves, there are 11,691 police officers who identify as being from an ethnic minority more than at any time in history," said the Home Office.
In addition, there are now 51,107 female officers across the 43 police forces in England and Wales, which is also at its highest level.
Home Secretary Suella Braverman said: "Improving confidence in our police forces means we must attract the brightest and the best to one of the toughest but most rewarding jobs in our country. I am delighted we are on track to deliver our bold promise to the British people of putting 20,000 additional officers on the streets.
"This next generation of brave police officers will add to efforts to drive down invasive crimes like burglary and neighbourhood offences, return to common sense policing and make our communities feel safer and stronger."
She said new recruits will be subject to "a rigorous vetting and assessment process" to assess suitability for the role of police officer, including testing against core behaviours and values.
Chair of the National Police Chiefs' Council, Martin Hewitt, said: "We are getting really close to achieving an additional 20,000 officers into policing nationwide and I am pleased to see great progress with this ambition from all forces.
"All of our police forces are working hard to recruit new officers who meet nationally agreed College of Policing standards by the end of March and although we are nearly there, we know how important it is to continue to focus our efforts on making sure policing is as diverse and representative as the communities we serve."
Policing and Crime Minister Chris Philp said: "Policing is a career like no other and I am proud so many thousands of people in England and Wales want to put themselves forward to protect their communities from danger – in a challenging, essential and rewarding job.
"In a matter of months, when this once-in-a-generation recruitment drive is complete and we have a record number of officers across England and Wales, our police forces will be more representative than ever of the communities they serve."
The overwhelming majority of new recruits recently surveyed report "positive job satisfaction" and want to remain officers for the rest of their working lives, and compared with other public sectors, voluntary resignations in policing remain low at 2.5 per cent, said the Home Office.
It added that the rate of uplift growth varies by quarter with the June and December quarters traditionally slower. This is due to the way that forces plan recruitment to hit their annual targets.
Overall funding for policing will rise by up to £287 million in the next financial year (2023/24) compared with the 2022/23 funding settlement, bringing the total up to £17.2 billion. In addition every police officer received a £1.9k uplift to their salary with effect from September 1, 2022, which equalled up to an 8.8 per cent increase for those on the lowest pay points.
The Home Office stressed that all recruits must meet the standards set by the College of Policing, and the Government has worked with chief constables and the college to "modernise, standardise and increase resilience in the recruitment process to ensure forces are able to hire the additional officers to keep communities safe".
Tiff Lynch, deputy national chair of the Police Federation of England and Wales, says the latest police uplift figures "tell a tale of two halves."
"There are now more officers who identify as being from an ethnic minority than any time in history, and we now have the highest number of female officers in forces across England and Wales," she said.
"However, the uplift programme currently sits at 16,700 out of the 20,000 promised by the Government and with two months to go until the end of the target period, it seems unlikely the promised numbers will be reached, despite the positive rhetoric from government.
"While the uplift programme aim to recruit an additional 20,000 police officers was welcome, it should not be overlooked that it was the Government who cut the number of officers in the first place.
"Only 1,420 officers have joined over the last three months, equating to just under 475 joiners each month, some 15 officers a day. Whilst these numbers should be encouraging, they do not take into account the real picture. At present, as many as nine police officers a day are submitting transfer requests to move to the other side of the world. This also doesn't include the number of officers retiring or leaving the service each day.
"Latest figures indicate 8,117 police officers left the service in England and Wales in the year ending March 2022 – the highest number of leavers since comparable records began, and at least 1,800 of those officers who joined under the Government uplift programme have already voluntarily resigned.
"If the 20,000 target is achieved, it would bring officer numbers up to around 148,000, which is almost on par with the number of officers in 2010. The reality is there is a need for an uplift of at least 50,000 officers to match 2010 levels if you consider population growth of more than 3.5 million over the last decade, and the annual attrition of approximately 6,000 officers per year.
"If the trends in resignation and retirement rates continue into 2023, it is anticipated that resignations will replace retirements as the greatest contributor to overall attrition."
Ms Lynch added: "The Police Federation of England and Wales is concerned that the uplift programme does not go far enough to help keep the public safe.
"Police officers work tirelessly to fulfil their duty to protect the public and uphold the law. In return, all they want is fair treatment, consistent welfare support and pay proportionate to prevailing economic conditions and the dangers they face as part of the job.
"We urge the Government to show they support and value police officers through their actions. Ignoring the current crisis in policing will have dire consequences to both the profession and the safety and wellbeing of the public.
"The smoke and mirrors statements must stop and decisions must start to be made based on reality and facts."