Extinction Rebellion banned from protesting in London
The Metropolitan Police Service (MPS) has banned Extinction Rebellion 'Autumn Uprising' protests from continuing anywhere in London following more than a week of disruption throughout the capital that has seen more than 1,400 people arrested.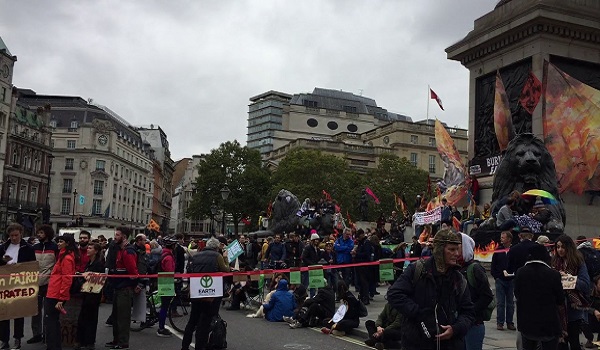 The MPS issued a revised section 14 order on Monday night that said "any assembly linked to the Extinction Rebellion 'Autumn Uprising' … must now cease their protests within London (MPS and City of London Police Areas)" by 9pm.
Protestors who defy the order and remain in place after this time will be notified and given an opportunity to disperse, but any who fail to do so will be liable for arrest and prosecution.
To date, 76 people connected to the protests have been charged with offences including failing to comply with the original section 14 order, which restricted protests to the pedestrianised area of Trafalgar Square.
Deputy Assistant Commissioner Laurence Taylor said last night: "These conditions have been imposed due to the continued breaches of the section 14 condition previously implemented, and ongoing serious disruption to the community."
"Since the beginning of this operation officers have been working hard to keep London moving. There have been more than 1,400 arrests, and a number of people have been charged. The policing operation continues, and we will continue to take action against anyone engaged in unlawful protests at locations targeted by Extinction Rebellion."
During protests yesterday (October 14), activists targeted the City of London. More than 90 arrests were made.
Hundreds of Extinction Rebellion supporters have also been camping in Trafalgar Square and at an alternative site in Vauxhall, South London, but last night police moved in without warning and began to clear them away.
On Twitter, the London branch of Extinction Rebellion wrote: "Police are clearing peaceful protest in Trafalgar & Vauxhall. They are back-tracking on promises made and, MEPs say, in contravention of UK law, in the national square. This is an emergency, and an outrage. The police must respect the law. This is a democracy."
Mr Taylor said: "This was an operational policing decision to help us get London moving again. After nine days of disruption we felt it is entirely proportionate and reasonable to impose this condition because of the cumulative impact of these protests.
"A significant policing operation continues and we will take robust action against anyone engaged in unlawful protests at locations targeted by Extinction Rebellion. However, I want to be absolutely clear. This does not mean people are banned from protesting in London. The condition applies specifically to the Extinction Rebellion 'Autumn Uprising'. If Extinction Rebellion, or any other group, come to us with a proposal for lawful protests then of course we will discuss that with them."
A spokesperson for the group said: "Extinction Rebellion this morning are disrupting the system bankrolling the environmental crisis. The day of disruption, which will target financial institutions, seeks to highlight the far greater disruption faced by those living in the environments systematically being destroyed by UK-backed companies.
"The ecological damage is global and it is hitting the global south now." Protesters said they were switching their focus to the financial institutions "funding environmental destruction".