Extinction Rebellion activists challenge police over protest ban
Activists from Extinction Rebellion have launched a legal action against the Metropolitan Police Service (MPS) challenging a public order that bans more than two climate change activists from convening anywhere in the capital.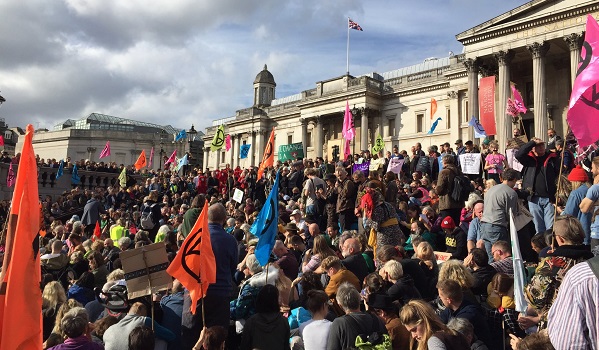 The ban was introduced at 9pm on Monday following nine days of disruption during the group's Autumn Uprising event, but thousands of protesters returned to London's Trafalgar Square today (October 16) in defiance. Among those arrested today were environmental campaigner George Monbiot and the co-leader of the Green Party, Jonathan Bartley.
Politicians, human rights groups and leading environmental figures, including the Swedish teenage environmental activist Greta Thunberg, have condemned the MPS ban as "unlawful" and "draconian".
Mayor of London Sadiq Khan said: "Neither I nor the Deputy Mayor for Policing and Crime was informed before the MPS took the operational decision to impose a section 14 order on Extinction Rebellion Autumn Uprising last night.
"I've met with senior officers today to seek further information on why they deemed this necessary. I've now asked senior officers to find a way for those who want to protest the climate emergency we face to be able to do so legally and peacefully in London."
Shadow Home Secretary Diane Abbott posted a video message on Twitter in which she said: "The Metropolitan Police's decision to ban the Extinction Rebellion protests across London is outrageous. These protests were drawing attention to one of the most important issues facing us internationally.
"The Labour party unequivocally supports the right to peaceful protest. This decision was actually contrary to our traditions of freedom of speech and I will be writing to the Home Secretary about this today."
However, Home Secretary Priti Patel made it clear she is fully supports the police action. She told the Evening Standard newspaper: "I've been in touch with the Met every day since these protests started to reassure them that I have their backs.
"They are dealing with extremely difficult protesters who have developed more sophisticated techniques making them harder to move off the roads and pavements, which they have been obstructing. It's quite unbelievable what they've been doing. I've heard reports of them chaining themselves to vehicles near the petrol tank making it difficult to use angle grinders to cut them out.
"They've also been locking arms with each other inside plastic tubes encased in concrete meaning they can't just be told to stand up and move on."
Though widely reported as an outright ban, the MPS has stressed it applies only to protests that breach previous agreements.
In a statement, MPS Deputy Assistant Commissioner Laurence Taylor said: "I want to be absolutely clear, the conditions put in place yesterday afternoon do not in any way ban protests from London, nor do they ban the activities of Extinction Rebellion as a group. These conditions specifically state that any assembly linked to Extinction Rebellion's 'Autumn Uprising' must now cease.
"Previous conditions, which stated Extinction Rebellion could lawfully protest in the pedestrianised area of Trafalgar Square, were repeatedly breached. The decision to impose further conditions was made in order to help us get London moving again. It is a lawful decision which we felt is entirely proportionate and reasonable to impose after nine days of sustained, unlawful assembly and protest by Extinction Rebellion."
Mr Taylor said he was confident the decision to issue the ban was "entirely lawful" and "entirely proportionate".
Extinction Rebellion argues that the ban is disproportionate and an unprecedented curtailment of the right to free speech and free assembly. It hopes the High Court will quash the decision to implement it.
Mr Khan confirmed that he had received assurances that neither Extinction Rebellion or other climate change protestors were banned from protesting lawfully and peacefully in London.