'Exodus' of MoD Police officers risking national security
National security is being threatened as officers tasked with protecting critical assets are demoralised and overstretched, a staff association has warned.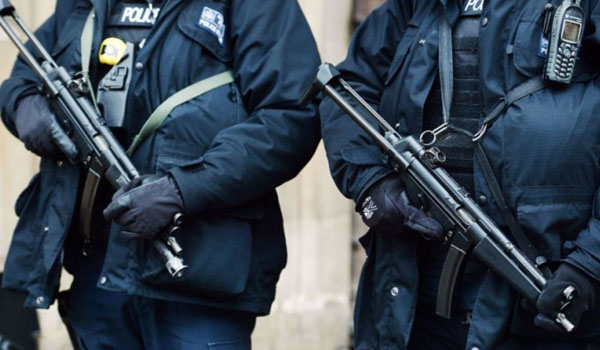 Ministry of Defence (MoD) Police officers have been left feeling "utterly unwanted and devalued" by funding cuts, mounting pressure and repeated failures to offer them the same conditions as colleagues in other forces, according to Defence Police Federation chair Eamon Keating.
Officers receive 95 per cent of the pay of any other service in the country, while planned savings requirements could see the equivalent of a whole force's firearms capability lost from the MoD Police's ranks.
Mr Keating claims these issues are threatening national security as fewer officers are being deployed to protect valuable sites, and morale is plummeting to the lowest level he has ever seen.
Addressing the Defence Police Federation annual conference on Thursday (June 14), he also called for security issues to be considered in an ongoing national review of Armed Forces capability.
Mr Keating said: "I am told that the numbers of officers leaving the Ministry of Defence Police have not significantly increased, but I can tell conference this does not align with my experience.
"We are witnessing and risking an exodus from our Force, especially in the case of new entrants in their early years of service. It breaks my heart to say it, but I cannot blame those who are going."
He added: "We are risking security by reducing the number of officers protecting our sites, and reducing those officers' morale by the way we treat them and value them."
The Modernising Defence Programme was launched in March to seek views on measures the MoD should consider to bring defence and the armed forces up to date in a sustainable and affordable way.
The consultation closed in April and should publish its initial findings in the next few weeks.
However, the Defence Police Federation believes the programme will be a "job only half done" if it does not consider domestic security.
Mr Keating stressed that MoD sites are at high and constant risk of extremist attacks that could cripple the department's finances, destroy much-needed equipment and shatter the public's sense of safety.
He claims preventing this requires the Armed Forces to be as well-equipped as possible, which will require the defence budget to be protected.
This savings requirement has prompted the force to consider a workforce 'reset', which will mean more than 300 vacant armed officer posts will not be filled.
If the plans go ahead, MoD Police numbers may drop below 2,200 – even though some sites are already running at half strength.
This amounts to a reduction of nearly 400,000 hours a year in frontline officer time.
MoD Police officers have also still not received the pay rise awarded to Home Office forces last September, leaving their salaries five per cent lower than those of their colleagues.
The MoD has agreed to fund the one per cent increase but has refused to implement the one per cent non-consolidated bonus as it was not budgeted for.
The MoD Police also wishes to raise the force's required fitness standards, and officers' pension ages are seven to eight years longer than any other service in the country.