'Exceptional work' of BTP officers recognised at annual awards
Brave and dedicated officers have been honoured at the annual British Transport Police (BTP) Federation Awards of Excellence.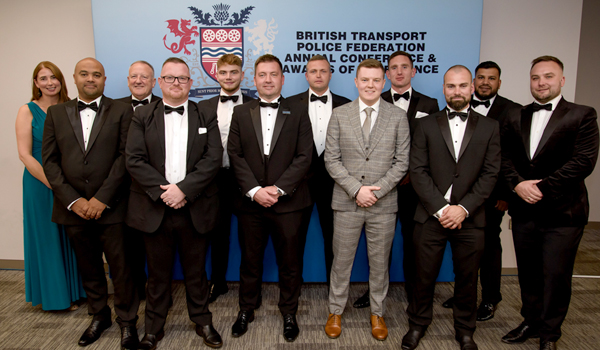 The British Transport Police (BTP) officers had all been nominated for an award by their colleagues, with the final winners chosen by a panel of Federation reps from across the country.
Chair of the BTP Federation, Stuart Cowan, said: "Police officers run towards danger. They put the safety of others before their own, as we have seen so tragically in recent weeks.
"Behind the scenes, officers work diligently, investigating circumstances, collating evidence. So much of this work doesn't make the headlines. Those cases that do can't convey the sweat, tears and occasionally, blood, that goes into police work.
"One of the most important aspects of my role is championing the exceptional work of our members."
The event was held at the Ageas Bowl in Southampton last week, with BTP's Chief Constable Lucy D'Orsi among the guests.
The following officers received Awards of Excellence:
PC Rhys Davies and Police Dog Indie were honoured for bravely confronting and gaining safe control of a teenager who was believed to be armed. The pair's arrival on the scene at Pontypridd train station followed reports of a teenage boy waving a firearm at members of the public.
PC Carl Cowper received an award for his role in the emergency response to a devastating wildfire in Wennington, East London. PC Cowper was first on the scene of the incident on July 19, 2022 – the hottest day ever recorded in the UK. He helped to evacuate homes, put out flames and support members of the public.
DC Carl Wayte was recognised for his role in dismantling a network of county-line criminals and safeguarding a vulnerable 13-year-old child being exploited to sell drugs. Two people were found guilty of conspiracy to supply Class A drugs. One was sentenced to nine years, the other three and a half years.
Special Sergeant James Cross was honoured for his dedication to duty. The officer – who is a pilot in his day job – has worked on the response team at Wembley in London for more than eighteen months. He has gone above and beyond in his voluntary role, giving many hours of his time, and using skills to identify and arrest suspects for both burglary and attempted murder.
PC Henry Thomas and PC Louis McGrail received an award in recognition of their actions in saving a man's life. They spent 11 hours with the man, attempting to calm him when he became aggressive and threatening. The pair's quick-thinking ultimately prevented the man from killing himself. They returned him to safety and the care of medical professionals.
DC Kath Spencer and DC Mark Luker received an award on behalf of the Investigation Review team in Major, Serious and Organised Crime South (MSOC). This team is reviewing all unsolved and undetected rape offences that have been reported to the force and last month secured a guilty verdict in a distressing case.
DCI Mick Jackson received BTP Federation's Lifetime Achievement Award. This widely-admired officer has worked on many high-profile cases over an astonishing 48-year policing career – and supported colleagues when they have needed it most, in his role as a Federation representative.
The BTP Federation said details of three other awards presented on the night could not be shared at this stage.