'Excellent results' in international operations against treasure smuggling
More than 41,000 cultural treasures have been recovered in global crackdowns on illicit trafficking.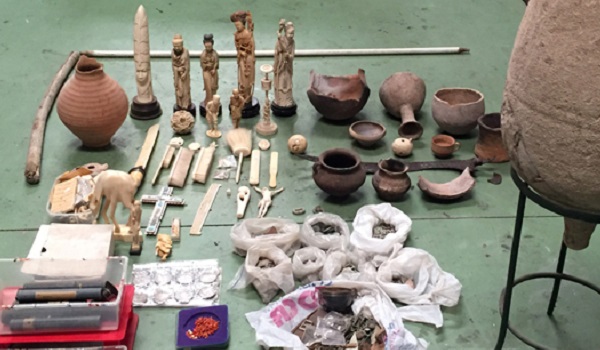 Customs officers and police forces worldwide worked together to disrupt the smuggling of cultural goods as part of 'Athena' and 'Operation Pandora II".
The operations, coordinated by Interpol and Europol, led to raids across 81 countries and the recovery of thousands of coins, paintings and archaeological pieces.
More than 100 people have been arrested in connection with the investigations.
Kunio Mikuriya, secretary general of the World Customs Organisation, said the results of operations should "speak for themselves".
"Cooperation between customs and police can yield excellent results and should be promoted and sustained at all levels," he added.
"The fight against illicit trafficking of cultural objects has been long neglected by law enforcement agencies, however, we cannot turn a blind eye to it."
Both Athena and Operation Pandora II ran from October to early December last year, with a common action phase in late November.
An emerging trend identified in both crackdowns was the use of the internet to facilitate illicit trafficking, with criminals able to easily reach collectors anywhere in the world.
This led law enforcement agencies to actively monitor online market places for stolen or looted goods, leading to 63 criminal investigations and the seizure of more than 6,000 objects.
One investigation by Spain's Guardia Civil recovered more than 2,000 treasures, mostly Roman and other ancient coins, as well as an ivory carving of Christ valued at €6,000 (£5,310).
Officers also seized 39 firearms and historical weapons such as crossbows and katana swords.
Argentinean Federal Police also recovered the shell of an extinct mammal known as a glyptodon, thought to be more than a million years old, that was on sale for the equivalent of £108,000.
INTERPOL Secretary General Jurgen Stock said: "For criminals, the black market in works of art is becoming just as lucrative as for drugs, weapons and counterfeit goods. Ancient artefacts also represent a potential source of great wealth for terrorist groups.
"To know what has been stolen and from where is the first step in any investigation, which is why INTERPOL is continuing to encourage the creation of specialised national units and databases."