Essex PCC 'taking the lead' as first fire authority takeover confirmed
Essex's police and crime commissioner (PCC) will become the first in the country to assume governance of local fire services.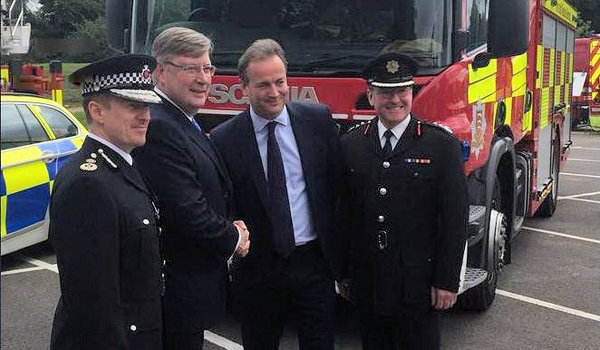 Essex's police and crime commissioner (PCC) will become the first in the country to assume governance of local fire services. Roger Hirst announced the takeover at Essex Fire and Rescue Service headquarters on Tuesday (July 25) months after putting the option to public consultation. Mr Hirst's plans have been endorsed by all three top tier local authorities in the county and approved by the Home Secretary as they are tipped to improve collaboration and efficiency. He will officially become the UK's first police, fire and crime commissioner in October this year. Mr Hirst said: "By ensuring a more joined-up response to incidents, providing crime and fire prevention advice, creating community safety hubs, and sharing buildings we can improve how we work and generate significant savings which can then be reinvested back into frontline services. "Essex has always been an innovative and forward thinking county as shown by the support we have received for this proposal. "Together we can do more to improve the service we give to the public and help keep people safe." The option for PCCs to take responsibility for fire services was introduced in January as part of the Policing and Crime Act. The Government has made £1 million available through the Police Transformation Fund for nine PCCs to develop business cases in their own areas. Supporters claim joint governance will encourage services to work together more effectively by sharing back office functions and premises while maintaining a distinction between their operational duties. Last week, North Yorkshire PCC Julia Mulligan became the latest to launch a consultation on assuming governance for local fire services. However, Sussex PCC Katy Bourne has declined the option despite potential £16 million savings as she has recognised the appetite for further collaboration between West and East Sussex fire services, and wanted to help partners seize opportunities for transformation. Ms Bourne intends to review her position on joint governance again in two years. Policing and Fire Minister Nick Hurd said: "It's great to see Essex taking the lead in this field and bringing forward a proposal which has support from local authorities across the country and from many of the public. "Having a directly accountable leader overseeing policing and fire will help both services enhance their effectiveness, maximise available resources, enhance local resilience and improve the services delivered to the public. "I'm really looking forward to seeing the benefits this will bring to the local area."