Enniskillen 30 years on: Stormont impasse holds back legacy unit creation as policing remembers one of its own
Policing in Northern Ireland has no intention in "giving up" on those responsible for the Enniskillen Cenotaph bombing as the tragedy's 30th anniversary is commemorated today (November 8).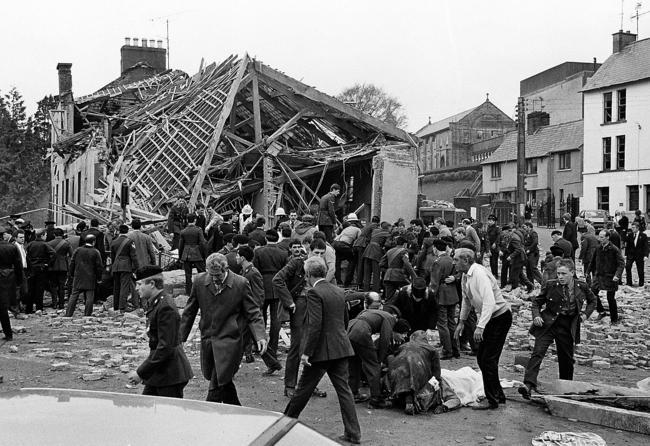 Policing in Northern Ireland has no intention in "giving up" on those responsible for the Enniskillen Cenotaph bombing as the tragedy's 30th anniversary is commemorated today. As a new memorial was being unveiled on Wednesday (November 8), the Police Service of Northern Ireland (PSNI) assured bomb survivors and victims' families it "remains committed" to bringing justice for the outrage. No one has ever been held to account for the bombing, which killed 12 people – including off-duty RUC Reserve Constable Edward Armstrong – and seriously injured 63 more. Since the Poppy Day bomb attack on the Enniskillen remembrance service on November 8, 1987, a number of case reviews and further investigative actions have been undertaken by officers. Ten people were arrested and interviewed during the course of the original investigation and subsequently released due to insufficient evidence to support a prosecution. In 2016, one person was re-arrested and interviewed by detectives from the PSNI's Serious Crime Branch. The individual was later released without charge, again due to lack of evidence. But Detective Superintendent Ian Harrison, from the PSNI Legacy Investigation Branch, said: "The Police Service of Northern Ireland remains committed to pursuing investigative options should they develop in the future. "The murders at the Enniskillen Cenotaph remain within the extensive caseload of Legacy Investigation Branch for future review. "If a new historical investigation unit is established as part of political developments, the case files will pass to that body." The historical investigation unit, an independent body detached from the PSNI, has been proposed as a means of investigating 1,000 cold cases relating to murders in the Troubles. Its creation has been delayed by the ongoing political impasse at Stormont which has not sat since power-sharing collapsed in January. Northern Ireland Secretary James Brokenshire has said that a public consultation on the proposed unit will take place by the end of this year. The new memorial bears the names of the 12 victims – Edward Armstrong, Wesley and Bertha Armstrong, Samuel Gault, Kitchener and Jessie Johnston, William and Agnes Mullan, Johnny Megaw, Albertha Quinton, Marie Wilson and Ronnie Hill. Their names were read out today and 12 bells tolled following a two-minute silence. A memorial service will also be held at Enniskillen Presbyterian Church. The Provisional Irish Republican Army time bomb went off without warning at 10.45am at the town`s cenotaph. It blew out one of the building`s walls, showering the area with debris and burying people in several feet of rubble. Those who died in the attack were all Protestant and they included three married couples. The 12th victim – Ronnie Hill – slipped into a coma two days after the explosion and never regained consciousness. He died in December 2000, more than 13 years after the atrocity. Joan Anderson, whose parents William and Agnes Mullan were killed in the attack, was one of number of relatives who said that they felt the tragedy had been forgotten about by the authorities. "You do not forget and I am still angry about it. I'm angry that right across Northern Ireland, good people have been killed and we have been forgotten about," she said. In the aftermath, Gordon Wilson made headlines with his words of forgiveness for those who killed his daughter Marie, a 19-year-old student nurse.