Effective workforce planning needed not commitment to maintaining officer numbers, says HMICS
The commitment to maintaining police officer numbers at 17,234 is a "blunt instrument" and not supported by evidence, according to HM Inspectorate of Constabulary in Scotland (HMICS).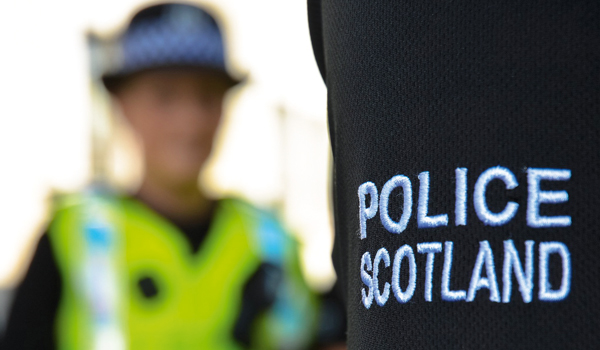 Instead, it said Police Scotland should focus on "reshaping the workforce to have the right people with the right skills" within a defined budget.
HMICS said its review of Police Scotland's Strategic Workforce Plan (SWP) published today (August 2) pinpoints some "fundamental cultural and strategic issues" which must be addressed, not least the notion that 17,234 police officers are needed to provide a policing service in Scotland.
HM Chief Inspector of Constabulary in Scotland, Craig Naylor, said: "Since inception, Police Scotland has been required to maintain this number. HMICS has long maintained it is not supported by evidence. Scotland may need more, or fewer, police officers or, indeed, a different workforce split between warranted and non-warranted officers.
"The commitment to maintain 17,234 is a blunt instrument and, given the workforce makes up around 86 per cent of the policing budget, effective workforce planning should replace it to allow the service to balance resource levels against the budget available."
Instead, Mr Naylor urged the service to "refresh its approach" and come up with a credible method of planning to ensure it can demonstrate a valid way to provide effective and adaptable policing services in a sustainable way.
He said the implications on policing of a flat cash settlement in the recently published resource spending review for 2022, make this even more pressing, with an expectation that this will guide Police Scotland's future planning scenarios. It is unclear, at this time, how much a financial gap this will create when pay rises and inflation are factored in to next year's spending, he added.
"To meet the demands and threats facing a changing Scotland, the service needs to focus on reshaping the workforce to have the right people, in the right place, at the right time, with the right skills to effectively and efficiently deal with demand for services within the financial settlement that is available," said Mr Naylor .
"Effective strategic workforce planning will allow Police Scotland to deliver a policing service within a defined budget, prioritise resources to meet current and predicted service demand and expectations and address a level of ad hoc pressure.
"It is a difficult task, requiring strong leadership and prioritisation to ensure clear decision-making on the resources and skills required for the future and a plan to achieve it. Hard choices have to be made and carefully managed to ensure public confidence in policing is not impacted."
Police Scotland had 16,610 full-time equivalent (FTE) officers in its ranks at the end of June 2022 – the lowest number since the creation of the single national police force.
The latest figures, published by the Scottish government, showed the number of FTE officers has fallen by 679 from the same time the previous year – the equivalent of almost two officers leaving the force a day over the last 12 months.
HMICS said while there was "much to commend in the existing SWP", which has been in place since January 2021, in particular coping with the challenges of the pandemic and COP26, it needs to be adapted and enhanced to help deliver a sustainable policing model for the future.
The review of Police Scotland's strategic workforce planning examines the efforts by the service to develop its understanding of workforce requirements as well as identifying areas for improvement.
It follows an inspection of demand analysis and management in 2021 and HMICS said it should be seen as a "complementary approach to understanding how Police Scotland operates to strategically deal with the challenges it faces".
HMICS said "limited evidence" was found by inspectors to suggest the SWP effectively supports the achievement of policing strategy and objectives, nor ensures there is sufficient capacity and skills in place to deliver them.
It notes there has been limited progress in terms of delivering the SWP as yet and Police Scotland, therefore, needs to adapt its approach and take a wider view of managing demand for its services and prioritising the service which it can provide.
HMICS found the SWP lacks planning for corporate functions, cyber threats, the pressure due to pension changes or linkage to skills development, recruitment and retention.
The SWP references a variety of different programmes and projects, all of which have workforce implications, but there is no analysis of their combined impact on the workforce, expected requirements or outcomes, said HMICS. Similarly the SWP does not address the full impact of working with partners.
"We advise that Police Scotland should focus on the development by next spring of a strategic assessment of the workforce and a refreshed delivery plan to address these gaps. In addition, it should consider how to deliver the next version of the SWP in April 2024," said Mr Naylor."
HMICS considers more progress could be made for roles to be filled by police staff, thus freeing officers for operational duties.
It said while Police Scotland has clearly demonstrated its ability to respond to short and medium term challenges such as Covid-19, it needs to embrace predictive models, deal with uncertainty and be more transparent about longer-term planning, states the report.
Police Scotland Chief Constable Sir Iain Livingstone said: "Officer numbers are lower as a result of restricted recruitment because of Covid, the COP26 climate change summit, and increased retirals resulting from changes to pension arrangements. We are recruiting and I welcomed 300 new probationary constables last week.
"I have been clear the funding arrangements set-out in the Scottish government's spending review, if progressed, will mean difficult decisions for policing in Scotland – for example a far smaller workforce.
"Workforce planning can assist in understanding how to best meet the increasingly complex policing needs of our communities. But this will be a challenge, particularly as policing in Scotland already delivers around £200 million of annual savings compared to legacy arrangements.
"I am grateful to Her Majesty's Inspector of Constabulary for his report, which contributes to our focus on workforce planning while also underlining the complexity of the issue for policing and other sectors."
Martyn Evans, chair of the Scottish Police Authority (SPA), said: "The Authority welcomes publication of this HMICS report and its recommendations. Workforce planning is crucial for Police Scotland to adapt and develop its capacity and capability to maximise public safety and wellbeing, to respond to evolving threats and challenges and remain operationally sustainable. It is also necessary given the financial constraints we will face with flat cash settlements.
"I particularly welcome the recommendation to move beyond simply counting officer numbers and to shift the focus to ensuring Police Scotland has the right skills, shape and mix, and is delivering effective and responsive policing. This has been the Authority's approach to date and will best serve the public interest."
The report identifies a number of areas for development to support the delivery of a strategic workforce plan and workforce planning in Scotland and details the next steps for Police Scotland, the Scottish government and the SPA.
HMICS makes ten recommendations:
The Scottish government, SPA and Police Scotland should collectively cease to use 17,234 officers as a target and focus instead on developing a workforce based on the skillset and mix required to meet the current and future challenges for policing in Scotland;
Police Scotland should redesign its workforce planning approach requiring a set of design principles and parameters to facilitate meaningful involvement of senior staff to deliver a consistent design and planning approach;
Police Scotland should establish a clear model and plan for producing a Target Operating Model and set out a route map for its delivery through business planning and change activity;
The SPA and Police Scotland should review governance arrangements and processes, and clearly define how workforce planning decisions will be made and who will oversee their implementation;
Police Scotland should strengthen the links (at all levels in the force) of tasking and coordination to workforce planning, fully adopting the demand response model to demonstrate how changes in threat, risk and demand translate directly into tactical and resource decisions;
Police Scotland should develop a unified and expanded data science capability within the Demand and Productivity Unit;
The SPA and Police Scotland should progress the development of future scenarios and use them to support the production of a longer-term vision as part of the new Joint Strategy due in 2023;
Police Scotland should focus on two main areas of activity: Develop a strategic assessment of the workforce and a refreshed delivery plan to address the gaps and issues identified for consideration by the SPA (by April 2023); and as part of that delivery plan, develop a revised methodology to deliver the next iteration of the SWP in April 2024;
Police Scotland should develop a roadmap for delivery of strategic SWP objectives and a programme for workforce change; and
The SPA and Police Scotland should put in place measures to monitor progress against the areas for development outlined in this assurance review, ensuring regular reporting at the SPA People Committee to allow assessment of progress.