EE showcases balloon and drone 'masts' that could support the ESN
EE has unveiled its "mobile technology of the future", which could have the potential to support the new Emergency Services Network (ESN).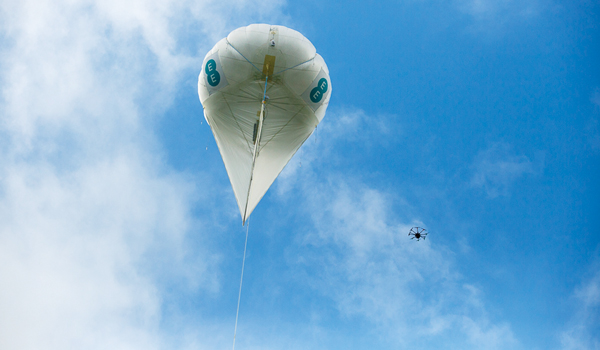 EE has unveiled its "mobile technology of the future", which could have the potential to support the new Emergency Services Network (ESN).
At an event in London last week it demonstrated how it will use its 'patent-pending' balloon and drone 'air masts' to connect the most remote areas of the UK and keep communities online in the wake of disasters such as major flooding.
As well as aerial solutions for replacement and remote consumer coverage, EE also confirmed that a fleet of 'rapid response vehicles' would be deployed to support the new ESN and "keep the vital service live during local site outages and essential maintenance".
EE showed how it could use mini mobile sites attached to a helium balloon – a 'Helikite' – to provide wide area 4G mobile coverage where permanent sites have been damaged or in areas where there is no 4G coverage. Drones equipped with mini-sites, each including a base station and antenna, could also be used to provide targeted coverage, such as in search and rescue operations.
It says the use of small cells connected back into the EE network over satellite or using EE's 4G spectrum, would enable calls and access the internet to be made from even the most remote areas.
EE says its tethered and powered mobile 'air mast' solutions are currently in patent-pending status and expects to deliver a deployed balloon solution in a rural environment this year.
The new technology was trialled by EE and Nokia last summer with a drone used to carry a tiny base station to remote areas around Inverness. The tests showed that with the help of the drone, mobile coverage could be established very quickly over ranges of several kilometres. High-quality LTE (long-term evolution) voice calls between responders, video streaming and up to 150 Mbps
data throughput were all achieved, with no need for a connection to an external core network.
Imran Durrani, senior account manager for Nokia in the UK, said it creates "a whole new dimension for network operators", allowing them to provide temporary 4G coverage in underserved areas or to quickly expand capacity at large events.
EE chief executive officer Marc Allera explained: "We are going to extraordinary lengths to connect communities across the UK. Innovation is essential for us to go further than we've ever gone, and deliver a network that's more reliable than ever before.
"Rural parts of the UK provide more challenges to mobile coverage than anywhere else, so we have to work harder there – developing these technologies will ultimately help our customers, even in the most hard to reach areas.
"Looking ahead, I see innovations like this revolutionising the way people connect. We're developing the concept of 'coverage on demand'. What if an event organiser could request a temporary EE capacity increase in a rural area, or a climber going up Ben Nevis could order an EE aerial coverage solution to follow them as they climb? We need to innovate, and we need to think differently, always using customers' needs to drive the way we create new technologies."
The ESN is expected to produce significant savings compared to the existing Tetra (terrestrial trunked radio) system supplied by Airwave, which will largely be achieved by 'piggybacking' the system on EE's existing 4G network.
EE says its 4G LTE network will significantly improve the efficiency of the emergency services by giving them access to the type of data and applications that have benefitted private businesses in recent years.
LTE offers unrivalled broadband capabilities for applications such as body-worn video streaming, digital imaging, automatic vehicle location, computer-assisted dispatch, mobile and command centre apps and video surveillance apps, such as facial recognition.
However, a critical report by the National Audit Office said the planned replacement for the Airwave blue-light communications system was "inherently high risk" as a similar network has never been implemented elsewhere.
The Home Office planned to roll out the new ESN between September 2017