Edir Da Costa death: Force used was proportionate
The use of force by five Metropolitan Police Service (MPS) officers to restrain Edir Frederico Da Costa who had swallowed drugs and later died was "proportionate", an Independent Office for Police Conduct (IOPC) investigation has found.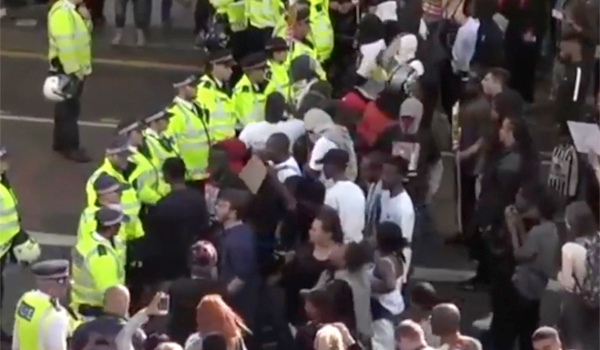 The IOPC has taken the unusual step of issuing its findings before an inquest is held "in the interests of transparency" and after a large amount of conflicting information circulated about the incident. 
Mr Da Costa was detained by MPS officers after stopping a car he was travelling in on June 15, 2017. Prior to or during his detention, Mr Da Costa tried to swallow bags containing crack cocaine and heroin, as tests later proved. 
The officers restrained him with handcuffs, with one officer using CS spray. Mr Da Costa became unconscious, and more officers arrived and gave him first aid before an ambulance was called. 
Mr Da Costa failed to regain consciousness and died in hospital six days later. 
Violent protests erupted in Stratford, east London around the police station and bus station in late June 2017. Bricks were thrown and fires lit, resulting in a male sergeant receiving facial injuries and a female constable suffering head injuries.  
The IOPC investigation, which concluded in July 2018, focused on the reason for the car stop; the use of force and CS spray; the level of care given to Mr Da Costa when he lost consciousness; and if the actions of the officers were discriminatory. 
The car stop was found to be justified as the officers were part of an operation focusing on gang-related activity, and as they thought the Mercedes was a hire car, a modus operandi often used by gangs, they felt they had reasonable cause to perform a stop. Likewise, the restraint used on Mr Da Costa was deemed "necessary and proportionate".  
But one officer has a case to answer for misconduct over the way they deployed CS spray, and the same officer and two others should receive management action over the speed in which they called the London Ambulance Service (LAS). One of those officers should also receive management action over providing incorrect information about Mr Da Costa's condition. 
It was also concluded that a fourth officer should receive management action "over a comment they made in a statement providing their reasons for carrying out the stop. The comment revealed preconceptions the officer may hold about the driver's age, race and gender in relation to the make and cost of the vehicle". This did not affect the officer's treatment of Mr Da Costa and so was not discriminatory, the IOPC said. 
Finally, no evidence was found that the officers had been discriminatory in carrying out the stop. 
The investigation also identified differing national police advice about the search of people suspected of having drugs or other packages in their mouths, and the MPS "voluntarily suspended mouth-searching in suspected drugs cases".  
A comprehensive review of such searches is being undertaken by the Faculty of Forensic and Legal Medicine, the National Police Chiefs Council and the College of Policing, and the MPS will continue to suspend mouth searches for drugs until the results are available.     
It was also stressed that the post mortem report gave Mr Da Costa's cause of death as hypoxic ischemic encephalopathy, which is a lack of oxygen to the brain caused by a blocked airway although there had been speculation he had suffered a neck fracture, a spinal injury, a broken collarbone or a bleed on the brain.  
Jonathan Green, IOPC Regional Director said: "Edir's death has had a devastating impact upon his family and friends, and our thoughts remain with all of those affected. 
"At the outset of our investigation a large amount of conflicting information began circulating regarding what happened to Edir. 
"We have attempted, when possible, to provide information to counter this, and have taken the step of announcing our findings ahead of the inquest in the interests of transparency. 
"We have conducted a rigorous investigation that has revealed a number of areas of concern regarding the actions of four officers. The Metropolitan Police has agreed with this conclusion and action will be taken." 
Mr Green added that the inquest, scheduled for 2019, will determine how Mr Da Costa died, and the IOPC will publish its final report and rationale when the inquest is concluded.