Edir Da Costa death during detention ruled misadventure 
A man who swallowed 88 wraps of class A drugs during his arrest died by misadventure, an inquest has concluded.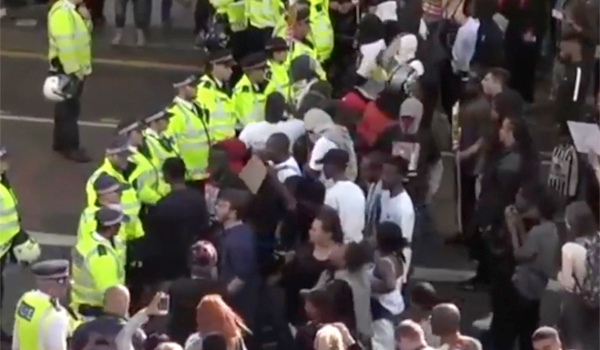 The death of Edir Da Costa in June 2017 sparked a wave of protests in East London. However, the inquest jury said Mr Da Costa died from an upper airway obstruction caused by a plastic bag in his throat and a delay in calling an ambulance did not contribute to his death. 
The majority verdict and narrative confirm the findings of an Independent Office for Police Conduct (IOPC) investigation that the five plain-clothed officers acted correctly in stopping the 25-year-old and two of his friends.  
The restraint, involving the use of CS spray and being placed in the prone position, was also proportionate and necessary. 
However, the IOPC said one officer should receive management action for a comment made at the scene and two for a delay in calling an ambulance. One of those officers should also face management action regarding the level of detail provided about Mr Da Costa's condition and his use of CS spray. 
The inquest heard that Mr Da Costa was stopped at around 10pm on June 15, 2017 as part of an operation against gangs dealing drugs via a mobile hotline. 
The coroner, Nadia Persaud, read out police intelligence reports prepared after Mr Da Costa's death that claimed he was linked to a gang in Newham known as the "Portuguese Mafia". 
According to the statements, the Metropolitan Police Service (MPS) believed the gang was involved in the sale of crack cocaine, heroin and cannabis, and members had a range of convictions including possession of a firearm.  
Intelligence linked Mr Da Costa to the gang between 2011 and 2014, and another in 2017 when officers attempted to stop a car they suspected was linked to drug dealing but were unable to detain its occupant. Inside the vehicle they found a 12-inch knife, a balaclava, a quantity of cannabis, and Portuguese ID in Mr Da Costa's name. 
Mr Da Costa had a number of previous convictions for burglary, theft and possession of cocaine. He served an 18-month sentence in a young offenders institution for offences connected to the 2011 London riots. 
His father, Ginario Da Costa, said questions remained over the circumstances of his son's death. He said: "We cannot help but wonder whether Edir would still be here had the police identified the risk of Edir choking earlier and taken steps to help him." 
Susie Labinjoh, head of civil liberties at Hodge Jones and Allen, the law firm representing the family, said: "Officers should be taught not to assume that a person is resisting arrest when there is a risk that they are struggling because their breathing has been restricted." 
The MPS has assisted the National Police Chiefs' Council in reviewing the guidance for officers who stop suspects who place items such as drugs in their mouths. The updated guidance has now been completed by the College of Policing and is being incorporated into officer safety training. 
MPS Commander Dave Musker said: "Our thoughts and sympathies remain with Mr Da Costa's family and friends for their loss. 
"The jury's findings today are in accordance with the conclusions of the IOPC investigation; the officers who dealt with Mr Da Costa that day acted correctly in very difficult circumstances as part of their priority work to tackle violence and drug dealing in Newham and to protect the public. There were some points of learning identified by the IOPC that have been addressed. 
"The inquest heard evidence that Mr Da Costa had chosen to swallow 88 wraps of controlled drugs wrapped in a plastic bag in the course of being stopped to avoid detection by police. This was not immediately apparent to the officers involved. It is clear that swallowing drugs is a lethally dangerous thing to do."