Drug-driving being detected 'far too regularly'
Police Scotland says drug-driving offences are still being detected "far too regularly" despite roadside testing being in place for almost two years.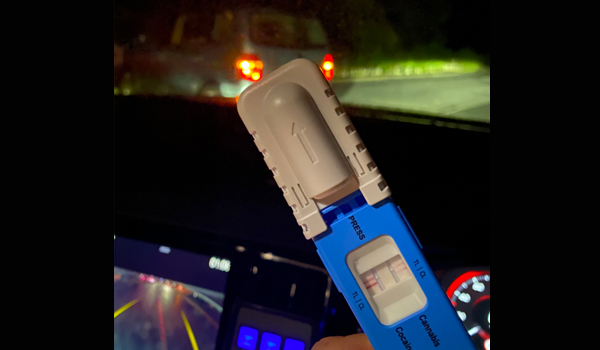 More than 40 drivers were arrested after testing positive during a week-long drug-driving campaign by roads policing officers at the end of last month.
Superintendent Simon Bradshaw said: "Despite roadside drug testing being in place for almost two years and our continued efforts to raise awareness of the dangers associated with taking drugs and driving, our officers continue to detect drug driving offences far too regularly.
"Driving after taking drugs can have serious or even fatal consequences, impacting not only the driver but all those involved including family and friends.
"Police Scotland are committed to taking action against those who selfishly put others at risk by driving after consuming alcohol or taking drugs."
Almost 40 per cent of those drivers stopped tested positive for drugs and Supt Bradshaw is now encouraging people to report drink or drug-drivers or concerning behaviour, adding: "Officers will act on this information to stop offenders before they injure or kill themselves or someone else."
During the campaign, which ran from August 23 to 29, officers conducted a total of 109 roadside drug screening tests across Scotland, resulting in 42 drivers being arrested for providing a positive test. Blood samples were subsequently obtained from those arrested and sent for further analysis.
In one incident, officers from Greater Glasgow Roads Policing, who were deployed in support of the campaign, observed a man driving using his mobile phone. When stopped he admitted to having consumed cannabis and the subsequent roadside drug test was positive for cannabis and cocaine.
Following his arrest, a blood sample was obtained and submitted for analysis, said Police Scotland.
Latest figures from the Scottish government  show suspected drug deaths during the first half of 2021 remain "unacceptably high" despite a small decrease on the same period last year,
In the first six months of this year there were 722 suspected drug deaths – one per cent (nine) fewer than during the first six months of 2020.
Males accounted for 72 per cent of deaths, with just over two thirds (69 per cent) of suspected drug deaths of people aged between 35 and 54.
There were 35 suspected drug deaths in the under 25 age group, 29 per cent (14) fewer than during the first six months of 2020
The Police Scotland divisions with the highest numbers of suspected drug deaths were Greater Glasgow (187), Lanarkshire (67), Edinburgh City (64) and Tayside (64)
Drugs Policy Minister Angela Constance said: "Once again these figures are appalling. We are taking a vast range of actions to tackle this public health emergency, and we recognise the hard work and challenges ahead.
"More regular reporting of data on drug death trends in Scotland will ensure everyone involved in our national mission remains focused on the work we must do to get more people into the treatment that is best suited for them as quickly as possible."