Drop in LGBT equality for police employees
Police forces are becoming less inclusive for lesbian, gay, bisexual and transgender (LGBT) officers and staff, according to the LGBT charity Stonewall.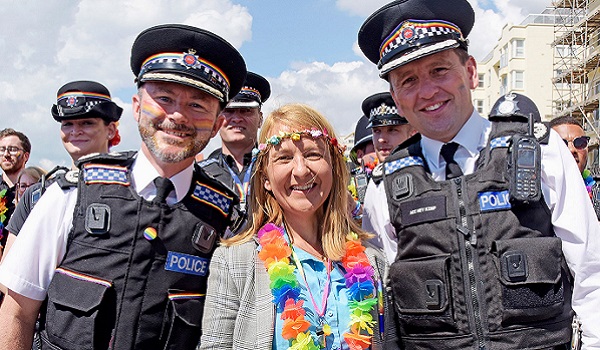 Only four forces featured in its latest list of the top 100 employers for workplace equality, with Sussex Police ranked the highest at joint 68th. Cheshire Constabulary was joint 80th, Lancashire Constabulary joint 90th and Leicestershire Police joint 93rd.
By contrast, the 2018 list included seven forces, with Cheshire Constabulary ranked joint 26th, Nottinghamshire Police joint 39th, Leicestershire Police joint 42nd, Sussex Police joint 47th, Northumbria Police 69th, Lancashire Constabulary 74th and Police Scotland 90th.
Cheshire Constabulary had risen to joint 18th in the 2019 list, with Lancashire Constabulary rising to 36th. However, Sussex Police had dropped to 81st place last year while Northumbria Police placed joint 88th. The National Crime Agency (NCA) came in at 100.
Northumbria Police, Nottinghamshire Police, Police Scotland and the NCA were all absent from the 2020 list.
Stonewall's Top 100 Employers list published today (January 30) is compiled from submissions to the Workplace Equality Index, a benchmarking tool used by employers to assess their achievements and progress on LGBT equality in the workplace, as well as their wider work in the community and on service provision.
Each organisation must demonstrate their expertise in ten areas of employment policy and practice, including networking groups, senior leadership, procurement and how well they have engaged with LGBT communities.
Leicestershire Police, placed joint 42nd in 2018, did not appear on the 2019 list and the force is celebrating its return to the top 100.
Police Constable James Yeoman, co-chair of Leicestershire Police's LGBT+ Network, said: "Returning to the top 100 employers is a great achievement for the force and is something we should all be proud of. Working in an environment where accepting someone for who they are is key, and it is evident we are doing the right thing.
"As an organisation and LGBT+ Network, we work incredibly hard to support staff wherever we can from an LGBT+ perspective. Next year we shall aim to do things even better than this year, adopting an even stronger approach in supporting our colleagues and allies of the LGBT+ workforce."
Chief Constable Simon Cole said Leicestershire Police was "thrilled" to be back in Stonewall's top 100 employer list.
"This accolade reinforces our commitment as a force to ensuring equality for all members of the organisation. We will be recruiting for staff and officers throughout the year and I hope that this recognition helps to open the door to as many people as possible to come and join us," he added.
Sanjay Sood-Smith, Stonewall's executive director of workplace and community programmes, said: "We still don't live in a world where everyone is able to be themselves in the workplace; as we know more than a third of LGBT staff (35 per cent) hide who they are at work. By taking steps to make their workplaces supportive and welcoming of all lesbian, gay, bi and trans people, businesses like Leicestershire Police are bringing us closer to a world where everyone is accepted without exception."
A total of 503 employers were considered for this year's top 100 and Stonewall collected more than 109,000 anonymous responses from employees on their experience of Britain's workplace culture and diversity. This year, 81 per cent of LGBT employees who responded to the survey said they felt able to be themselves in the workplace.