Dorset Police chief constable vows to get tough on crime
The chief constable of Dorset Police has pledged to create a "hostile environment for criminals" in his new vision for the force.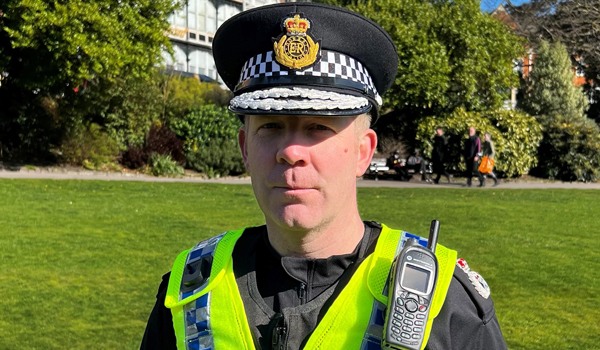 Scott Chilton said a priority will be tackling criminals on the roads coming into Dorset who "who prey on young and vulnerable people" through County Lines drug-dealing networks. This will include "targeted action" by new specialist enforcement teams.
He said there will also be more officers on the streets as the force takes the fight back to criminals with a "relentless commitment" to tackling criminal activity and making the county the safest in the country.
"I am committed to creating a hostile environment for criminals in Dorset; we will switch the misery from those victims of crime to those who cause pain by tackling them head on," said Mr Chilton.
"We are committed to bring more offenders to justice and our communities will see a more visible and proactive police force in Dorset.
"I will be putting more officers on our streets, be responsive to calls for service from our public and ensure we are more accessible through mobile police stations, neighbourhood surgeries and dedicated enforcement teams out in the community."
Mr Chilton added: "We also need to provide a quality service to victims and put them at the heart of everything we do.
"I know our communities want to see action against anti-social behaviour and street-level drug dealing, so I am investing in County Lines enforcement teams and neighbourhood enforcement teams to be continuously pursuing those bringing drugs into our county through proactive and targeted action."
Mr Chilton said he is shaping the force by tackling criminals on the roads coming into Dorset, targeting organised criminals who prey on young and vulnerable people and ensuring the force has "robust and streamlined investigation processes to get those who need to be taken off the streets behind bars as quickly as possible".
He added: "While recorded crime in Dorset remains relatively low, our communities are constantly telling me they want greater visibility from their local police and action to tackle behaviour and criminality which directly effects their lives – now we will see a change to address these issues.
"My vision is a commitment to responding to those concerns and put our resources in the right places to relentlessly pursue those involved in crime.
"Whether this be in our towns, in our rural communities or online cybercrime, all of my officers and staff will be playing their part in delivering this new approach and I know our communities will see a real difference in how policing is delivered."
Mr Chilton stressed that having a workforce which is "visible, connected and trusted" by communities was critical to local policing.
"I'm committed to seeing real change in our communities and my hope is the public will join me in making Dorset the safest place to live, work and visit in the country," he said.
The vision aligns closely to the police and crime plan already published by Dorset police and crime commissioner David Sidwick and will see all criminal justice partners across Dorset coming together and playing their part tackling crime.
Mr Sidwick said: "I wholeheartedly welcome the chief constable's policing vision for Dorset and I am particularly pleased that the vision reflects my own police and crime plan. I very much support the approach of being tough on crime."
He said his police and crime plan is based on what the people of Dorset said was important to them, adding: "This now is reflected in the chief constable's vision for Dorset and therefore links the needs of the people through to the delivery of policing on our streets, across the whole county.
"The vision clearly states that Dorset Police will be tougher on crime, a key element when it comes to achieving our shared ambition to make Dorset the safest county."