Dissident republicans remain a 'severe' threat
The chief constable of the Police Service of Northern Ireland (PSNI) has warned there remains a "persistent threat of attack" against security force targets with continuing high levels of dissident republican activity.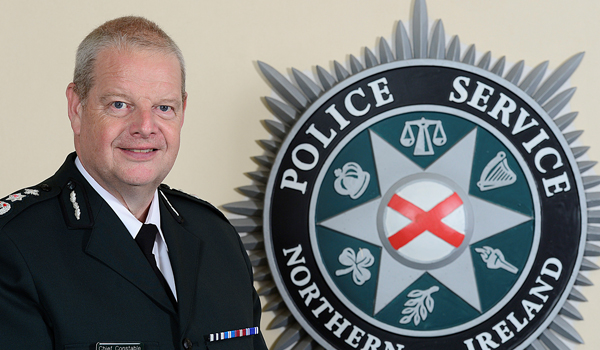 "Police officers, military and prison officers remain the primary target for violent dissident republicans and the threat to each of these remains 'severe', meaning an attack is highly likely," said Simon Byrne in his annual report to the Northern Ireland Policing Board.
"We continue to assess that dissident republicans remain capable of mounting reckless and dangerous attacks, many of which also pose a danger to members of the public.
"Republican, loyalist and organised criminal groups continue to conduct paramilitary-style attacks and intimidation directed at the wider community. These brutal attacks remain a significant issue in many communities in Northern Ireland."
There were 60 victims of paramilitary-style assaults during the 12 months to October compared with 54 during the previous 12 months. Of those, six were aged under 18.
Paramilitary-style shootings fell slightly to 17, compared with 21 during the previous 12 months, but Mr Byrne said: "After a four month period between April and July which saw no such attacks, the last three months have seen two or three such shootings each month."
Mr Byrne added that modern slavery and human trafficking continued to be a "fast growing crime" with the number of victims in Northern Ireland at an all-time high.
"During the 2018/19 financial year, 59 potential victims were identified in Northern Ireland, an increase compared to 36 the previous year. Already this financial year, 64 potential victims have been recovered in Northern Ireland – the highest figures ever recorded since national records began in 2009," said Mr Byrne.
He added: "When the year finally draws to a close it will mark six months for me as chief constable of the PSNI. I would like to thank my colleagues, the Policing Board and the wider Northern Ireland community for the welcome and support I have received. Time has flown and in that time we have collectively begun a conversation about where we want to take policing in Northern Ireland over the next ten years.
"This report has outlined the breadth and depth of the service we are providing to local communities. It also evidences that we are building upon strong foundations as we develop our plans for change over the coming months. I look forward to 2020 with optimism."