Digital upgrade puts an end to 'garbled' transmissions
The Police Rehabilitation Centre has resolved interference and "garbled" transmission problems by investing in a new digital communication system.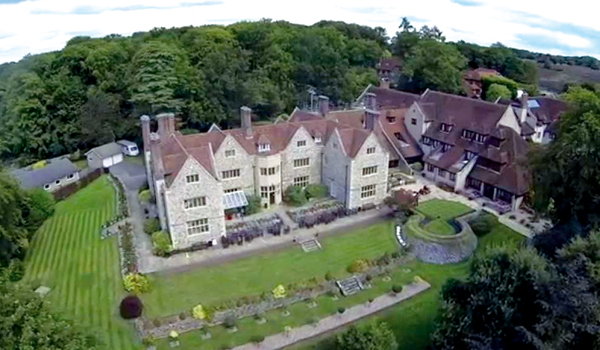 The Police Rehabilitation Centre has resolved interference and "garbled" transmission problems by investing in a new digital communication system.
Brian Richards, estates manager at the Flint House centre, which provides rehabilitation services for sick and injured, serving and retired police officers, said the nature of the building and dense woodland surrounding it meant they were experiencing poor coverage over the expanse of underground and overground areas.
"We were having transmitting problems – either staff not hearing or not receiving depending on location," he explained. "Transmissions were often garbled or sounded like someone was speaking underwater or weren't even received at all. The battery life was poor depending on the use, but mainly they [previous radios] were just totally unreliable."
The main building dates back to 1913 and the thick flint walls were the main reason for communication issues, not helped by underground floors, roof spaces installed with metal ducting, water tanks, pipes and cables, lift shafts and underground fridges.
Two terraces in front of the house, a bungalow at the east side of the entrance, 14 acres of surrounding land, plus several extensions that were added to the main house in 2003, further compounded the problems.
Mr Richards said the buildings and expansive site at Goring on Thames in South Oxfordshire now required "capable communication" that could penetrate through a different variety of materials and extensive area.
He found the answer with one of the smallest two-way radio systems on the market – the Vertex Standard EVX-S24 from intelligent radio communications specialists Resound.
This type of radio, although small, still maintains its rugged, resilient and hardwearing durability with an 'IP67' waterproof and dust protection rating, explained Mr Richards.
He said he was now able to rely on the communication system without suffering interference from other channels or loss of transmission, helped by the digital qualities of the radio and the longer battery life.
Individual features such as the emergency alert button and low battery indicator ensured that communication was fully secure, while also being very cost-effective.
"We haven't had any dead spots on site, and it gives us such peace of mind that during an emergency, our radios are up to the job," said Mr Richards. "There are zero complaints from our maintenance department of any problems caused by communication failure or battery drain."
He said the small, easy-to-use EVX-S24 has proved reliable, efficient and easy to fit into on-site operational groups, adding: "Now, all the departments within the centre use the Vertex EVX-S24 digital system, which we have on a long-term hire contract. These range from maintenance, housekeeping, security, physio, the chief executive's office, admin, drivers, gardens and estates, and the nurses reception. We find that the yellow and black colouring on the radios is beneficial in certain departments as it colour-codes what we use them for."
Mr Richards said Resound's technical support had allowed a smooth transition from old to new technology: "They have been helpful and given advice whenever needed. They allowed us to trial different radios and explained how to carry out a thorough technical assessment on site.
"We were always able to speak to someone at the end of the telephone who has knowledge to deal with the problem or give advice."
Every year, the Police Rehabilitation Centre helps more 3,500 police officers return to full operational health. Flint House boasts an extensive range of facilities, including dedicated physio facilities, exercise and wellbeing classrooms, outdoor health trail, two gymnasiums, a hydrotherapy pool, a 12.5-metre swimming pool and a Jacuzzi spa.