Device to save stab victims wins design award
A 22-year-old student from Essex has won a prestigious award for designing a system to help police officers rapidly stem bleeding from knife wounds.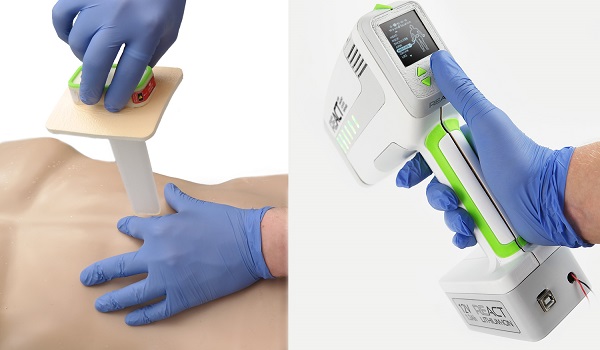 The police are often the first emergency personnel to arrive at a scene of a stabbing, so the speed at which they administer bleed prevention treatment is paramount to increasing the chances of survival.
Joseph Bentley designed REACT, which stands for 'rapid emergency actuated tamponade', to assist in such situations and his efforts have been recognised by being named winner of the UK James Dyson Award 2021.
The device comprises two parts: a medical-grade silicone sleeve, known as a 'tamponade', and a handheld device called an 'actuator'.
Impaled objects should never be removed from stab wounds as they apply internal pressure. However, in cases where the wound is open, emergency responders could use the REACT device.
The emergency responder would be first required to insert the tamponade into the wound. They would then connect the actuator to the tamponade via a valve and select on the device the area of the body the wound is located. The actuator would then inflate to a defined pressure based on the wound location, preventing internal bleeding.
Mr Bentley said: "I know several friends who have been the unfortunate victims of knife crime, thankfully none of the incidents were fatal. I am haunted almost daily by news of someone who has lost their lives because of knife crime; there were five murders in three days this spring bank holiday. It's horrifying.
"Wound management techniques like wound packing have started to be used by paramedics globally to prevent bleeding. This process involves tightly "stuffing" a wound with gauze, applying pressure internally to the site. The process is slow, technical and extremely painful to the patient, but has been proved to stop bleeding from knife wounds quickly.
"However, this technique is not suitable for wounds in cavities like the abdomen (most common for knife attacks). It is also very challenging to remove gauze from the wound during reconstructive surgery, which can cause clinical complications.
"The simple application and automated inflation procedure of the REACT system makes it a game-changer for first responders. The tamponade can be in place and stopping a haemorrhage in under a minute, saving hundreds of lives a year, and as the tamponade is suitable for large cavities such as the abdomen, it is also easier and faster to remove than current methods used to stop bleeding, giving the patient the best chance in reconstructive surgery."
Mr Bentley wins £2,000 towards developing his concept as part of the national prize and will progress to the international stage of the James Dyson Award 2021.
He added: "Although medical device testing takes a long time, I'm looking forward to using the prize money to develop my innovation further. I'm hoping one day it will be carried by all emergency services – police, ambulance staff, even the military, but the absolute goal is to get this product in use as soon as possible."